Fadeless Fashion 
A Hailey Bieber Wardrobe 
Christina Saenz | Writing Contributor  
Fadeless fashion. The beauty of a never aging wardrobe, encapsulated by interchangeable pieces that create endless styles. Cheap. Efficient. Easy. Aren't the best things in life accompanied by simplicity?  
An example of someone who has mastered the art of a capsule wardrobe and the "trying without trying" look is Hailey Bieber. Using simple pieces, she changes her look with jewelry, shoes and jacket choices. Easy but so modern. 
Finding your own style and curating a closet that resembles such is a hard task to achieve, but these small shortcuts will hopefully start you in the right direction.  
Before creating the polished new you, it's important to clean out the past. (This can be applicable for many stages in life disregarding clothes.) A big closet clean-out allows for a fresh start and can even give a little cash flow for your new beginning. To make sure you're not getting rid of those favorite pieces, ask yourself, "have I worn this in the last 6 months?" — if the answer is no, think about thrifting the item; this tactic keeps you from getting rid of seasonal jackets or sweaters that you may only wear a few months out of the year. 
1. Select Your Base Color
This base color should be augmented, either white or black, complementary to many accent colors. Picking a monochrome shade will make pairing outfits easier. The rotation of clothing and matching is crucial for a simple closet.
2. Add Essential Pieces
Now, to all those statement piece wearers, the love for feathers, tulle, and glitter certainly makes fashion fun, but before you can collect the unique items you have to get the basics. 
Pants

 

Mom jeans, beige or cream trousers, leather pants, black leggings.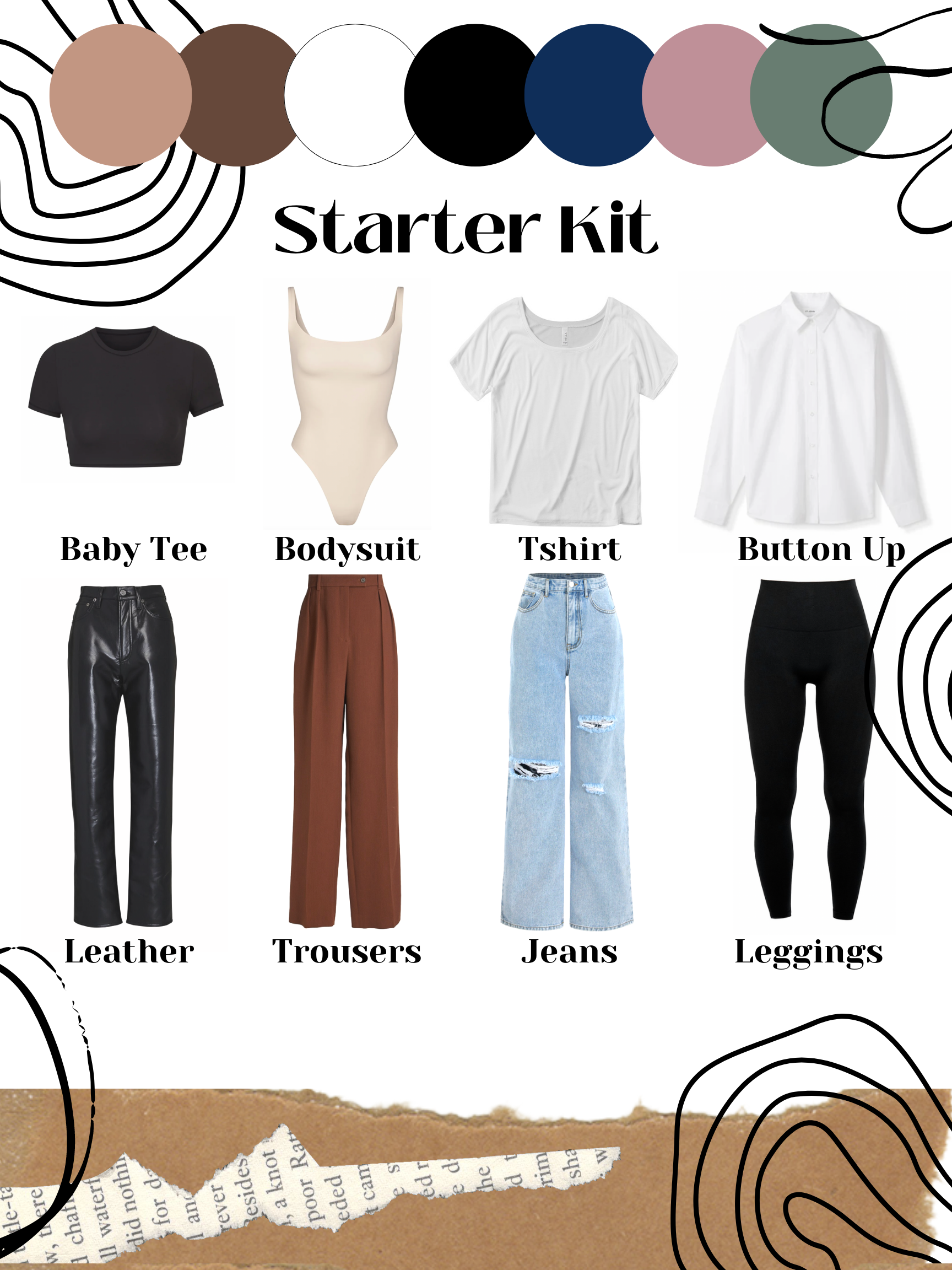 Tops

 

Slouchy full-length white t-shirt, black and white plain baby tees, black and white halter body suits, black one-shoulder, white button up.

 

Outerwear

 

Gray crewneck sweatshirt, plain blazer, jean jacket.

 

Other

 

 Neutral midi skirt, little black dress (because everyone should own this).
3. Choose Accent Colors 
No, we don't mean the bold shades. Accent colors should still be neutral, like browns, blushes or dark blues, so you have more of a variety of simple clothing to mix and match. 
If you're struggling to match colors, choose from these simple palettes: 
White, Olive, Nude, Mocha

 

Black, Grey, Ivory, Beige

 

White, Blush, Marine, Rust

 

Black, Sage, Mustard, Army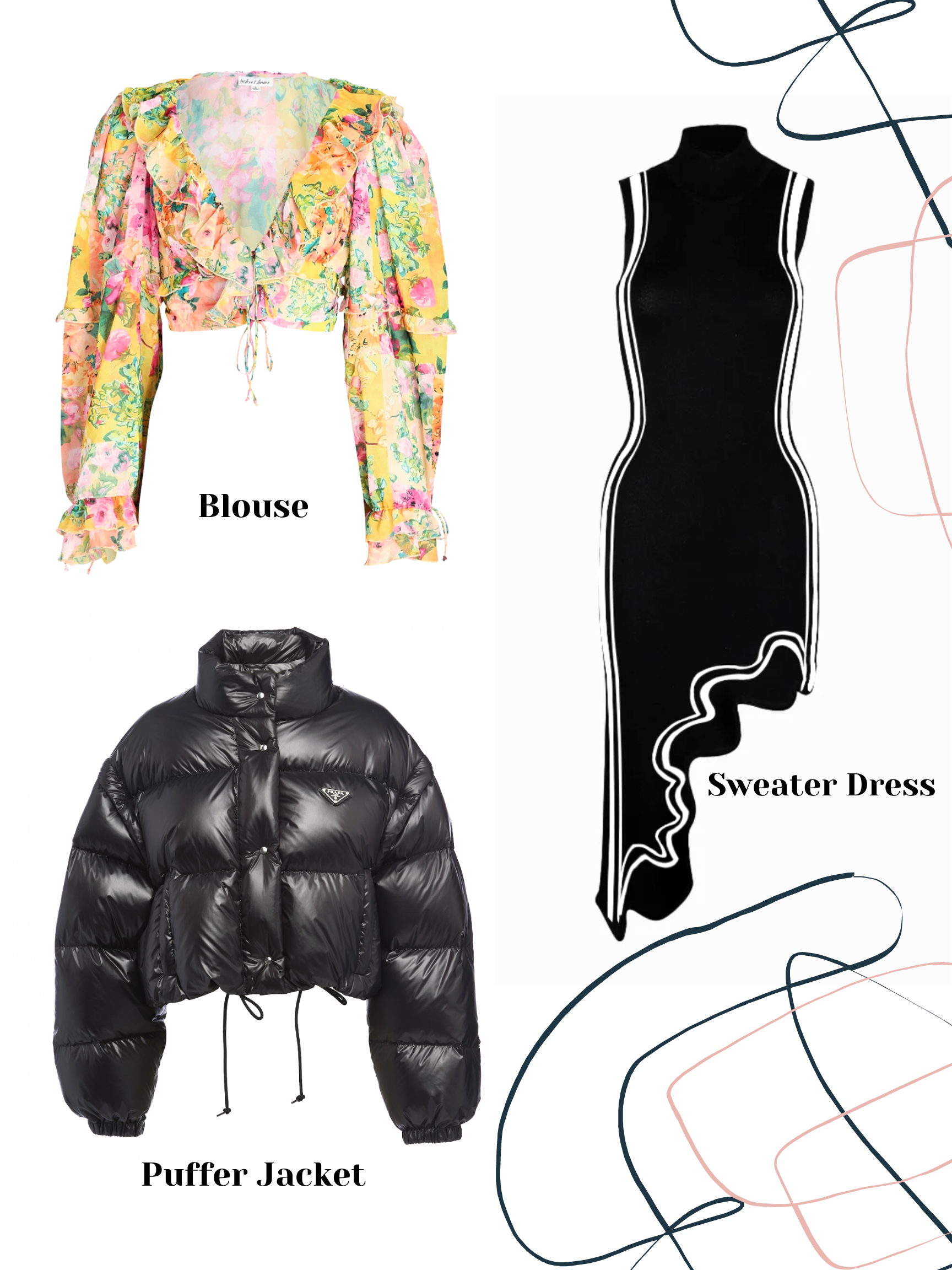 4. Splurge on Seasonal Items 
Seasons come and go, but your closet won't. After collecting the essentials, feel free to shop seasonally. A floral blouse for spring, a sweater dress for fall or a black puffer jacket for winter. This step will also add different patterns and textures to your closet.  
5. Shoes and Accessories  
This is where the color combinations are all up to you. Stay simple or go bold. You can never go wrong with white sneakers, chunky gold hoops, bangles or a simple crossbody. But if you're feeling adventurous, add in pops of fluorescents. Take a plain white outfit to a strutting night attire or a black statement piece to magazine ready. Whimsical heels, bright-colored clutches, beaded earrings and bulky rings are a great start to accessorizing.