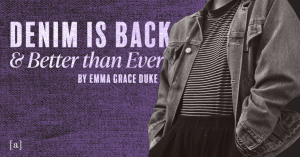 By Emma Grace Duke
While denim has been an American staple for a while, one of its most prominent moments in pop culture was when Britney Spears and Justin Timberlake hit the 2001 American Music Awards red carpet wearing matching denim. Spears rocked a sweetheart neckline dress that flared at the bottom and Timberlake strutted a pantsuit. These pieces live on and have been recreated by celebrities such as Katy Perry and Riff Raff. Denim trends evolve but denim itself is not trendy, it is timeless.
Denim trends this year have been accommodating to comfort. With virtual classes and remote work becoming the norm, many people have started to explore different comfort styles. Goodbye skinny jeans, hello street style jeans. High-end designers such as Celine, Victoria Beckham and Gucci have challenged how baggy jeans can be styled. 
We are seeing a shift towards the 90s baggy jean style where bigger means better. The baggy style jean started as a casual trend, but now is being used to dress up for a night out. We are also seeing the comeback of low-rise bootcut jeans, another infamous staple that Spears dominated. 
In comparison to high-waisted jeans being popular for many years, the low-rise style is an adjustment from prior trends.  Straight jeans are becoming increasingly popular from brands such as Mother, Citizens of Humanity and FRAME. The straight leg creates a structured silhouette that is capable of being worn with heels and an overcoat while also being able to complement tennis shoes and a tank top. The lengths are varied to hit the ankle or to be dramatic in length to create a shrugged look. 
Another popular trend in jeans is white and light-colored denim. A trend that sprung back to the 1900s labeled consumers of the upper-class in particular as someone who had the means to have end-of-summer vacations. White denim is versatile and great for all seasons. With modern minimalism on the high rise, a neutral pair of pants paired with light-beige tones are ideal for the cult street style. 
An amazing way to elevate your denim collection is to be sure you are diverse with your styles but also your color ranges. Bottega Veneta, Isabel Marant and Closed have released staple pieces that would compliment anyone's closet. You will get maximum mileage out of this staple. 
Other ways to incorporate denim are to layer denim pieces or invest in a jumpsuit. Double denim is becoming popularized on the streets and as the weather changes. Frame's Le Jane stretch-denim jumpsuit fits comfortably in the top region and hits the waist snugly. It flares at the bottom to create a bootcut look and hits at the ankle so that you can dress it up with a fun pair of heels or dress it down with a chunky sneaker.
The thrift store is a go-to place to find variations of denim. I have found Levi's, Lucky Brand and Citizens of Humanity jeans in perfect condition despite them being a few years old. Denim is durable, it is long-lasting and shows little to no wear. Every thrift store I have been to has offered a wide variety at a comfortable price point. 
All the new denim trends coming forward are evolving the formalities of the way denim is presented. It is practical for anyone's collection and can be worn for any occasion, comfortably. With all the new styles, lengths, colors and fits of denim, there are opportunities to embrace new styles. You do not have to go out and buy brand new, high-end pair to stay with the trends because after all, history repeats itself. The jeans of today will be the jeans of the next generations to come.