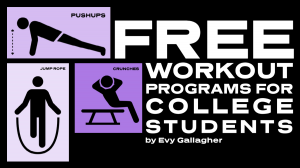 By: Evy Gallagher 
In the thick of the pandemic, many of us got on board with the trend of at-home workouts, both for mental and physical benefits. While some cannot wait to be back at the gym, others took a liking to working out in the privacy of their own space. With thousands of online workout videos and different programs to choose from, it can be challenging to know where to start. This guide was created to make it easier for you. Whether you're a fitness guru, looking to get into a new routine or using movement for mental clarity, here are the seven best, free online workout programs. 
HIIT  
HIIT stands for high-intensity interval training. This type of workout increases heart rate, can boost fat loss and improve oxygen consumption all in a short training period.  
Jaclyn Wood

 is a trainer on YouTube that creates quick, effective workouts which combine cardio with strength training. Her videos are perfect for those who don't have much time for a workout class but still want to break a sweat.

 

No equipment needed. 

FITSQR

 is an Instagram page that posted daily workouts on their IGTV during quarantine. They have over 30 HIIT training videos, each focusing on a different muscle group. The workouts range from 35 to 45 minutes for a lengthier, more intense workout. 

Equipment needed. (Dumbbells, glute bands) 
BODYWEIGHT  
Bodyweight workouts require no equipment and are perfect for the days you want a good sweat but really don't want to go to the gym.  
Madfit is a YouTube channel created by Maddie Lymburner to help people reach their fitness goals. She has almost 300 bodyweight workouts ranging from three to 30 minutes so no matter the fitness goals, her subscribers can squeeze in a quick workout if needed. No equipment needed. 
YOGA 
Yoga is a practice that "brings harmony between mind and body," according to the Ministry of External Affairs. Yoga strengthens your muscles, improves flexibility and helps to combat stress. Yoga is a workout that can be done at any time of day to wake you up or relax your body. 
Do Yoga with M

e 

is a website that features a "free classes only" option with hundreds of yoga classes at all distinct levels. Whether you're a beginner or an expert, there is bound to be a class for you. 

No equipment needed. 

Yoga With Adrienne

 is a website that offers five unique 30-day yoga journeys among many other free yoga classes. 

No equipment needed. 
STRENGTH TRAINING  
Strength training workouts focus on building muscle and help to prevent injury in other types of physical activity. Though strength training can be done without equipment, the easiest way to build muscle is with the use of weights.  
Sydney Cummings

 runs a fitness program on YouTube that has a new focus each month. Posting a new video every day, Cummings focuses on the goal of the month to achieve her mantra of 

'

'

overall fitness.

'

'

 

Equipment needed. (Dumbbells, glute bands, jump rope) Some workouts require no equipment.

 
Fitness Blender is a YouTube channel that has workout playlists organized into types of workouts, specific muscle groups and length of the workout. Their workouts range from beginner to advanced so that everyone can enjoy their channel. Equipment needed. (Dumbbells, kettlebells)   
BARRE 
Barre, inspired by ballet, is a full-body workout that uses light weights, resistance bands or body weight to target every muscle group. Workouts incorporate strength training and flexibility for a well-rounded, sure-fire way to get your muscles burning. 
Barre Fitness

 

is a YouTube channel that combines monthly fitness challenges with their many other barre workout videos. Their company mantra is challenging people to move their bodies from five to 15 minutes a day. The channel's co-hosts, Leslie and Ella, bring an upbeat attitude to the workouts and make it easy to follow along. 

Equipment needed. (Dumbbells, glute bands, ballet barre or chair)

 

Barre with Andrea

 is a Barre instructor on YouTube that uploads a new workout video every week and shares tips and tricks with other barre instructors. Her classes range from 15 minutes to an hour with a different fitness goal for each workout. 

Equipment needed. (Dumbbells, ballet barre or chair)