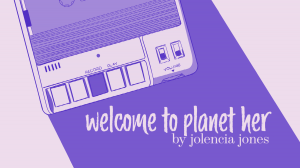 Jolencia Jones | Contributing Writer
Rapper Doja Cat takes us on a euphoric journey into outer space with her third studio album, "Planet Her."
Throughout 2020 Doja Cat reached a new level of success. She received her first #1 single with "Say So," along with multiple awards and critical acclaim for her live performances at the Grammys,  Billboard Music Awards, and MTV Video Music Awards. 
Since the announcement of "Planet Her" on June 9,  fans have eagerly waited for its release on June 25. 
The 19-track album has several features, including Ariana Grande and the Weeknd, and versatile genres for listeners to enjoy. It also covers various topics from love, liberation, femininity, lust, relationships and independence.
While showing her personality, Doja keeps listeners entertained with her vocals in ballads and theatrical raps over bubbly beats. 
The opening track, "Woman," set the tone for the subject matter of the rest of the album: girl power. The song is catchy and expresses divine feminine energy and the struggles that women face. 
The album continues to take us on a ride with female liberation with "Naked" and the promotional single "Need to Know." In both, Doja expresses what she wants and desires through unapologetic, lustful lyrics. 
One of the stand-out tracks on the album is "Get Into It (Yuh)" because of her theatrical flow and catchy chorus. She commends fellow rapper, Nicki Minaj, to close out the song.
After the first few songs, the album starts to shift into a storyline of a rocky relationship. 
Through the song, "I Don't Do Drugs," which features Ariana Grande, Doja compares being in a particular relationship to drug use. Using lyrics like, "Had to give in, couldn't give up/I just want you, but I don't do drugs," she extends her metaphor to showcase how addictive but concerning the relationship is. 
"You Right" and "Options" offer interesting perspectives of Doja possibly cheating on her lover. 
During "You Right," which features The Weeknd, she sings about wanting something new but hesitating to move on with the idea of someone new. The Weeknd gives smooth vocals to detail the things he can bring to Doja's relationship, with pleasure being the main one. 
JID steals the show in "Options" as he details a passionate relationship that's not serious because both of them have the option to see other people. 
Doja then follows the ballads with a song that temporarily distracts her from the failing relationship. 
In "Love to Dream," Doja sings about dreaming of when her relationship was in a good space. 
"It's about fantasizing and reminiscing about an ex," Doja said on Twitter.
Doja acknowledges that she and her lover are starting to change in "Been Like This," but the relationship has been falling apart too long, so maybe it might be too late to fix it.  
On "Ain't S—," one of the most streamed songs on the album, Doja seems to realize that the relationship isn't the best for her. The song represents the beginning stages of a breakup where most thoughts are initially anger. 
Doja becomes her most vulnerable in "Alone," where she describes the end of a relationship. Finally, she realizes she is okay with being alone. This contrasts with earlier songs in the album where she has expressed the things she would do for her lover without a doubt. Tying with the start of the album, the most important thing Doja discovers is self-love.
The lead single "Kiss Me More," which features SZA, closes out the album's standard edition. This bubbly pop song leaves listeners feeling energetic- as if they didn't just listen to the story of a rocky relationship. 
Overall, "Planet Her" is a smooth blend between some of Doja's older work and her new sound. She's found a way to make each song have a memorable chorus by keeping them short and repetitive. Once again, Doja has proved her creativity and distinguished herself from her peers.