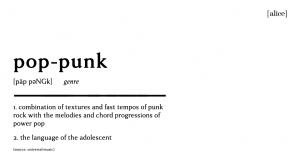 By: Hailey Castillo
Before he was Kourtney Kardashian's new boyfriend, Travis Barker was famous for being the drummer of Blink-182, an American rock band that was considered one of the most influential pop-punk bands of the 1990s. 
By definition, pop-punk "combines the textures and fast tempos of punk rock with the melodies and chord progressions of power pop." More importantly, according to Universal Music, the genre "became the language of the adolescent" and "arguably took over punk rock as a whole" by the early 2000s due to its relatability.
Without Blink-182, bands like Fall Out Boy, Paramore and other bands under Fueled By Ramen Records probably wouldn't exist or be what they are today. 
In recent years, however, these bands have strayed away from their original edgy sound and leaned further into the mainstream of pop radio. This begs the question, is pop-punk dying?
One Spotify playlist, "Pop Punk Powerhouses," pushed the nostalgia of the "golden age of pop-punk" but only featured songs pre-dating 2010. 
Though the genre is not nearly as popular as it once was, Barker has managed to keep the genre alive one collaboration at a time while also introducing the genre to a younger generation. 
Now with Barker's influence, the industry might be heading into a new era of pop-punk artists.
As early as 2011, Barker's key to success has been crossing genres, particularly with rap artists. Apart from being a featured drummer on collaborative songs, he's also credited as a producer and lyricist. Over the years, he's been featured on tracks with Lil Wayne, Yelawolf and Ty Dolla Sign. 
In 2019, Barker played drums on Machine Gun Kelly and YUNGBLUD's single "I Think I'm OKAY."
In an interview with Zane Lowe, Kelly admitted he was nervous about including Barker in the song in fear that it would be "too Blink-182." Barker said he ended up loving how the song sounded original rather than a song inspired by Blink-182. On July 7, 2020, the song became certified platinum in the United States and led to more collaborations between the two.
In 2020, Barker played drums on every song on Kelly's album "Tickets to My Downfall," which is more pop-punk driven and strays away from his established rap sound. 
Since the release of Kelly's critically acclaimed album, many artists have followed the trend in working with Barker. 
In February 2021, rapper Trippie Redd enlisted Barker's help in the reissue of his deluxe album "Neon Shark vs. Pegasus," which Barker wrote, produced and played percussion.
In April 2021, Barker again crossed genres with R&B and alternative singer WILLOW in her single "transparent soul." He also appeared on two more songs for her newest album, "lately i feel EVERYTHING," which was released in July 2021. 
Most recently, on July 2, 2021, the TikTok generation was introduced to pop-punk when TikTok star Jxdn, the first artist signed to Barker's label, DTA Records, released his debut album "Tell Me About Tomorrow." Barker, also, produced and drummed on the entirety of the album. 
One TikToker compared Blink-182's "Feeling This" to Jxdn's "A WASTED YEAR" and Blink-182's "Aliens Exist" to Machine Gun Kelly's "concert for aliens," pointing out that the same sound and concept from years ago has been repackaged and given to newer artists without changing it at all. It works, though, and fans are loving it.
Barker and Blink-182's sound is timeless, and though the newer era of pop-punk fans didn't grow up with anthems like "What's My Age Again?" and "I Miss You," Barker is responsible for bringing the sound back with newer, younger artists to emulate the exact same vibe years later. As more artists collaborate with Barker, the future of pop punk is looking bright.
To listen to more of Barker's hits, you can go to Spotify's Travis Barker playlist.