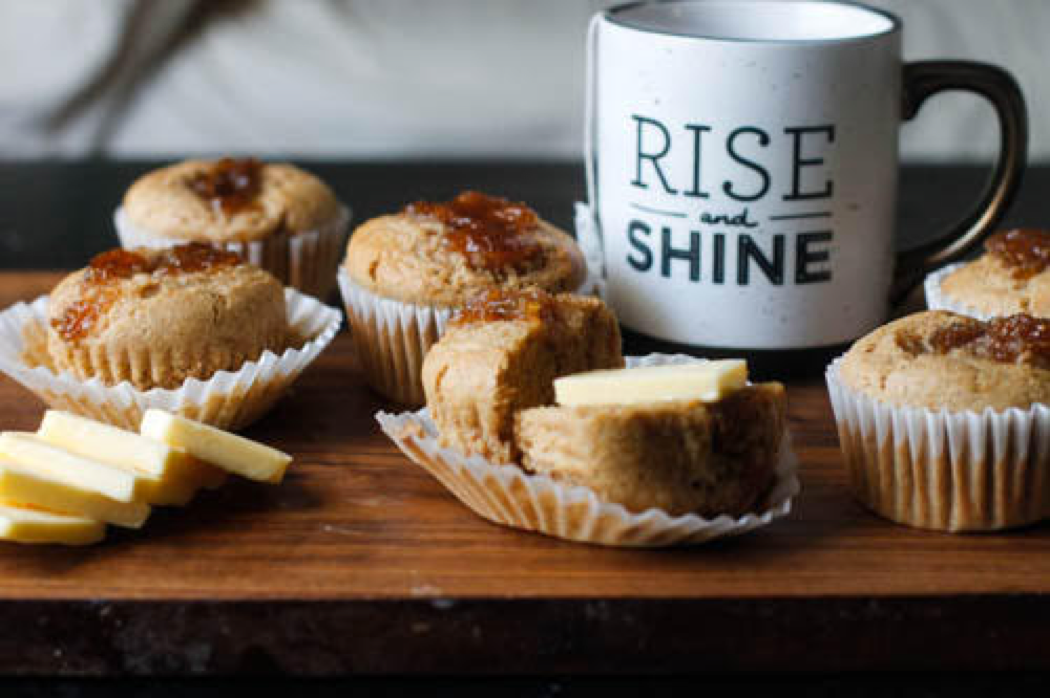 By Mary Clay Kline
One of the happiest places in the Tuscaloosa area is a little tea shop in Northport called Tea Town Alabama. The owners, Jonathan and Becca, are some of the sweetest people I know. They also serve some of the best tea I've ever tasted.
I've been an earl grey enthusiast for some time, and Tea Town's lavender-infused "lady grey" has won me over. I love to walk into Tea Town, sip my tea and talk a while with Jonathan, but in a pinch, I'll open my brown paper packet of loose-leaf lady grey I bought from them and make a microwave mug at home.
Enjoying a sweet treat alongside my earl grey is one of my favorite ways to spend a lingering, relaxed morning's breakfast or simple afternoon snack.
These jam and tea muffins are the perfect way to take advantage of those simple mornings and are an excellent vehicle for extra jam and butter. I used fig jam and earl grey tea in mine, but feel free to substitute your favorite jam and tea.

JAM AND TEA MUFFINS 
Makes 12.
Muffin Ingredients
1 cup all-purpose flour
1 cup whole wheat flour (can use 2 cups all-purpose if desired)
1 cup sugar
¼ cup brown sugar
2 teaspoons baking powder
½ teaspoon salt
1 cup milk
3 single-serve tea bags (or 1 Tablespoon loose-leaf tea), I used Earl Grey
Zest of one lemon
¼ cup unsalted butter, melted
1 large egg
¼ cup jam, any flavor, I used fig
Muffin Cooking Directions
Preheat oven to 400 degrees.

Combine flours, sugars, baking powder, and salt in a large bowl. Whisk to combine.

Heat milk in a small saucepan, and steep tea in milk for 5 minutes. Strain, if needed.

Whisk together milk, lemon zest, butter, and egg. Then fold wet ingredients into dry.

In a lined or greased 12-count muffin tin, dollop batter in ¼-⅓ cup scoops. Top with jam.

Bake for 10-12 minutes or until golden brown and cooked throughout. Test with a fork or toothpick to ensure this. Serve warm, alongside a mug of tea.
Photo by Mary Clay Kline.