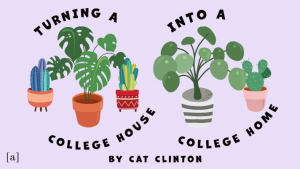 By Cat Clinton 
People often say home is where the heart is. If that is true, why do we as college students allow ourselves to live somewhere we do not love? Money is tight for most college students, and when it comes to designing and decorating our home, buying quality and custom pieces is often not the first priority or even a possibility. Unlike many of the popular remodeling-themed TV shows, our budget as students is limited, and so is our time. Making sure the feng shui of a home is balanced is not the first thing on anybody's to-do list, however, there are a few easy tips and tricks to making our homes feel slightly more upscale and lived-in without going over budget. 
Flowers, or any plants in general, are the first necessity. Life breathes life, but remembering to water flowers and change out vases can be time-consuming and expensive. Faux flowers (when arranged correctly) can be bright and hard to identify as fake. Placing fake plants around the home can be a fun and creative activity to do with roommates. You can place them on the top of cabinets, tables and window sills or even layer them with real ones to be especially deceiving. 
Lucky for us, vases are often not too expensive. America's Thrift, located in Tuscaloosa, has a selection of translucent rainbow vases that are out of this world. You can fill the vases with whatever you want, but I prefer to stick to water or sand. 
Thrift stores also have nice antique pieces to layer around homes for those of us that want to add extra dimension or depth. When decorating, it is often better to stick to a specific theme in order to keep the home looking cohesive and appealing. It is also a good idea for us to limit ourselves to a few colors. 
Balancing the line between colorful and eclectic, but not cluttered or chaotic, can be difficult to achieve. Unique-looking shells and other mementos collected from vacations and trips can be fun to highlight when decorating a home. Start by adding pieces slowly, entering the process with one simple idea: less can be more. Sometimes a flower is better than a bouquet. Instead of large tapestries or canvas, try framed pictures and photographs. Memories shown through old photos can be just as captivating as artwork when hung correctly. Photographs are also incredibly powerful and tangible pieces of the past. 
"Pictures are so important to me," Cyndi Steadman, a junior at the University of Alabama majoring in creative media, said. "Displaying my friends is a great way to learn about me. Those plus plants make any living space more lively. I also love to cook in my house because the smells make it feel homier."
Another fun feature of the home to customize is the lighting. Just like photos, lighting is everything. 
Lights help create the ambiance of an environment, so whether we choose orange tones for a comfy night in or ultraviolet lights to prepare for a night on the town, the lights of a room set the tone. Sunset lamps, LED strips or Party Rocker strobe speakers from Amazon can all help a home dweller customize a residence. Every home is different, but the older we get, the less likely the niche decor ideas will be appropriate. Therefore, we must take advantage of our college home and do it right. 
"Lighting is key to making a home feel inviting," Zoe McCarley, a junior majoring in interior design at the University of Alabama, said. "…adding some lamps and using windows for natural light can help make any space feel like a home."
Art collages have also been growing in popularity. Print out a multitude of photos with the same color palette, put a bunch of photos in the same filter or simply choose photos that you like with no correlation and stick them in a strategic and purposeful collage on the wall.
"I have all my favorite artists' posters," Lydia Jackson, a junior at the University of Alabama majoring in interior design, said. "I feel like it makes my room feel more personalized. I'm very precise about how they are spaced out, though. Proper spacing makes wall art look so much better."
 We can also paste them onto a canvas and cover the collage in epoxy resin and epoxy hardener. An extra step to customize is adding food coloring and glitter to the resin while mixing to add a tint.
 "I love art. The spray paint style canvases are very cool to me right now," Jenna Elliot, a junior at the University of Alabama majoring in public relations, said. "I find artists through Instagram pages and send them my ideas. They can usually do what I want, or at least something close, and since they aren't professionals, they usually do it for a great price." 
If you want to reduce waste, repurposing old candles is the way to go. Microwave them and collect the wax, then once you have an old mug or container you like, place a hemp wick in the middle held up by a chopstick or pencil and pour in the wax. This also allows you to collect the glass vases of old candles and save them for a future project. 
There are so many small things college students can do to turn our houses into homes. Remember, this activity is not supposed to be a challenge. Making our homes personal should be fun, not stressful. When we begin to feel like decorating our homes is a task, we stop caring. Incorporate your roommates, make a weekend out of it and try to have fun. This is one of our first opportunities to live without parents or guardians, so we should not limit our ideas or creativity. If this all sounds fun but too much work, do not stress. At the end of the day, we all care more about the people we are with than the room we are with them in.