Cilantro Chicken Enchiladas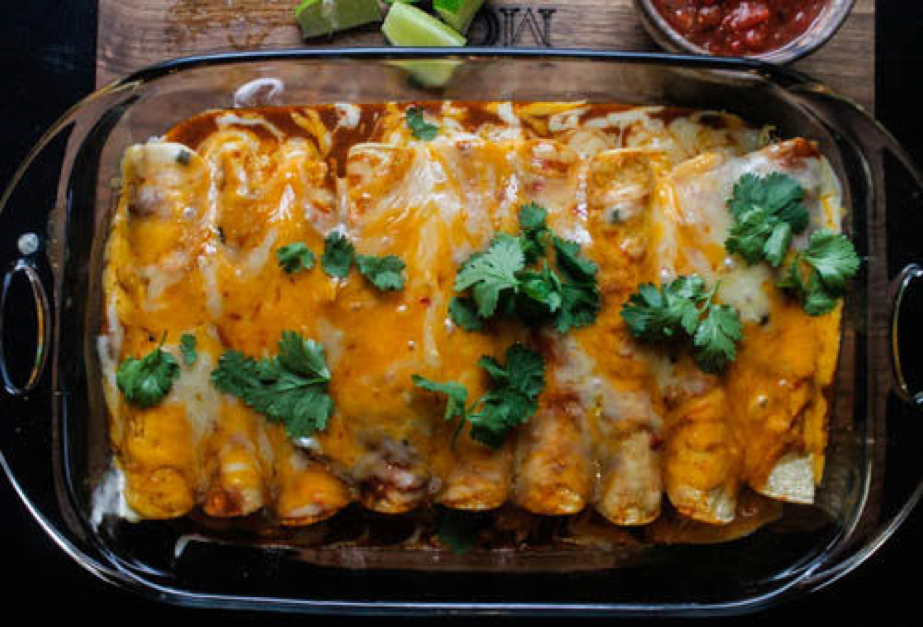 By Mary Clay Kline
When I was 8 years old, my aunt and uncle took my cousins and me to a Mexican restaurant.  After our meals, we decided we should order the birthday dessert — that delicious fried ice cream encased in a cinnamon sugar tortilla shell. We insisted it was not any of our birthdays. We just wanted that dessert.
Despite our assertions it was not anyone's birthday, a whole band of employees came out of the kitchen clapping and singing, and they plopped a couple sombreros on my cousin's and my heads. I was mortified.
From that moment on, I swore off all Mexican food, subjecting myself to years of ordering chicken tenders whenever I was forced to eat at a Mexican restaurant. After a while, I grew tired of my childish order and decided to branch out, ordering chicken covered in cheese or shrimp and rice. Slowly, I worked my way up to ordering things that were actually on the menu, and now, my go-to order is either a vegetarian quesadilla, or saucy, delicious enchiladas.
When I learned how to cook enchiladas at home, my world changed. I could make my own sauce, adding different seasonings to make it as flavorful as I wanted. I could stuff whatever I wanted into a little tortilla pocket. I could even choose which kind of tortillas I wanted to use: flour or corn. And when I ate them, they tasted like love.
That's what these cilantro chicken enchiladas are — warm bites of love nestled in tortilla blankets, smothered in spicy sauce, topped with a thick layer of cheese and bright green avocado.  
Some friends and I shared these enchiladas the other night; we chatted, we laughed, we enjoyed. Sometimes the food is the highlight of the evening, but sometimes, importantly, the food is simply an enhancement. That night was one of the latter kinds. These enchiladas are the perfect sharing food: the perfect accent to an evening with friends.
Chicken Ingredients
¼ cup cilantro
⅓ cup oil
¼ cup white wine vinegar
2 tsp sugar
½ tsp salt
1 lb chicken breasts
Enchiladas Ingredients
2 tablespoons oil, divided
Marinated chicken from above
1 bell pepper, thinly sliced
½ medium onion, diced
1 clove garlic, minced
8-10 corn tortillas
1 can red enchilada sauce, or homemade enchilada sauce
8 ounces cheddar or pepperjack cheese (or a mix), shredded
Avocado, cilantro, limes, sour cream, or salsa for serving
Chicken Marinade Cooking Directions
Combine cilantro, oil, vinegar, sugar, and salt in a blender until emulsified.  Place chicken breasts in a bag.  Pour marinade over chicken and marinate at least 1 hour or overnight.
Enchiladas Cooking Directions
Preheat oven to 350.

Heat 1 tablespoon oil in a pan.  Cook chicken over medium heat until cooked throughout.  Remove chicken from pan.  Shred chicken with two forks once cooled.

Clean pan if needed.  Then add 1 tablespoon of oil.  Add peppers, onion, and garlic to the pan, stirring often to prevent burning.

Stuff tortillas with chicken and sauteed peppers and onions.  Wrap tightly and place in a 9×13-inch pan.

Pour enchilada sauce over tortillas.  Top with shredded cheese.

Place pan in the oven and bake for 20 minutes or until cheese is browned.  Top with desired toppings.
Photo by Mary Clay Kline.