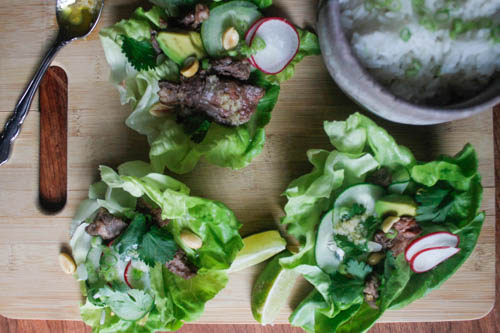 By Mary Clay Kline
"So what's that, like, a lettuce taco?" my brother asked, questioning what I was about to put into my mouth.
I had to laugh. I'm not one to discriminate against tacos of any form — not even a lettuce taco.
That food I was about to devour was not a lettuce taco, though, I informed him. It was a gorgeous thai steak lettuce wrap, topped with cucumber, scallions, cilantro, avocado, and ginger vinaigrette, and I was thrilled about eating it. He shrugged his shoulders, obviously uninterested, and went about his business.
I admit I felt a little miffed. Then again, my creation was virtually a portable salad, and I couldn't expect many teenage boys to rejoice over foods as such. But I knew what he didn't.
I knew about the ribeye that had been marinating in soy sauce, fish sauce, lime juice, brown sugar, garlic, and ginger. I knew it had been seared and cooked to a perfect medium rare, cooled, and thinly sliced. I knew about and savored the fresh herbs I'd picked from my family's garden — the crunchy radishes, salty peanuts, and spicy serrano chiles that topped it all off.
The other fabulous reward about eating lettuce wraps — besides how delicious they taste — is that you leave room for other things. I'm a fries-with-my-salad gal.  I want sticky jasmine rice to accompany the fresh and light steak lettuce wraps. I'm into ice cream for after dinner. And cookies after the aforementioned ice cream. I love all of these things, lettuce tacos included, and it's nice to have balance.
Thai Steak Marinade Ingredients
Serves 4
16 oz boneless ribeye steak
2 Tablespoons low sodium soy sauce
2 Tablespoons brown sugar
1 tsp toasted sesame oil (or olive oil)
1 tsp fish sauce
1 inch piece ginger, peeled and grated
1 garlic clove, minced
Juice of ½ a lime
¼ teaspoon black pepper
Ginger Vinaigrette Ingredients
1 inch piece ginger, peeled and grated
⅓ cup olive oil
1 teaspoon sugar
3 tablespoons rice vinegar
Dash of soy sauce
Lettuce Wraps Ingredients
1 head Bibb lettuce
1 avocado, sliced
1 radish, thinly sliced
½ cucumber, thinly sliced
1 scallion, thinly sliced
3-4 Tablespoons peanuts, crushed
Cilantro
Thai Steak Lettuce Wraps Cooking Directions
Combine marinade ingredients. Place steak in a Ziploc bag and pour marinade over it.  Marinate for at least one hour or overnight.


Heat a pan over medium heat. Add 1 tablespoon olive oil. Sear steak on both sides and cook until desired internal temperature is reached. Wait 10 minutes before slicing.

Combine ginger vinaigrette ingredients to make vinaigrette.

Using 1 to 3 lettuce leaves as the wrap, place steak and toppings inside. Serve with rice or alone.
Photo by Mary Clay Kline.