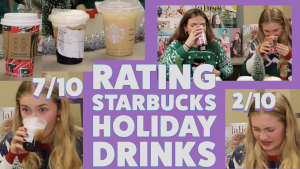 By Jennafer Bowman and Evy Gallagher
As most of you know, it is officially Red Cup season at Starbucks. Like many, we have been patiently waiting for their signature holiday red to wrap around the store.  
Now, we're no experts, but just like many other college students we drink a concerning amount of caffeine throughout each semester, so we consider ourselves unofficial, official caffeine connoisseurs.
To view both of our reviews watch the accompanying Youtube review here: Rating Starbucks Holiday Drinks
 Let's get this Fa La La-ing going, shall we? Here is a review and ranking of the Starbucks' 2021 Holiday Drink Menu:
Irish Cream Cold Brew: 1/5
Starbucks Description: Everything and more that you ever wanted in a sippable, dreamy holiday drink: Starbucks® Cold Brew swirled with Irish cream syrup, and topped with a cloud of vanilla sweet cream cold foam and a hint of cocoa.
Jen's Review: Ah yes, the second removed cousin of everyone's favorite fall drink, the pumpkin cream cold brew. I am not a plain coffee person, my mom is, my grandmother is, my aunt is, but I will scrunch up my nose at the pure thought of bitter black coffee. So this popular drink wasn't going to be in my top three at all. With a not-too-sweet top, it took me multiple sips to actually reach the bitter liquid below. That first sip of cold brew caused my tongue to shrivel up. The garnish on top did give this drink extra points in my book. The garnish was cocoa powder speckled down the center of the cloud-like cold foam. This drink doesn't give the holiday cheer I expected from it, but if you need that extra caffeine kick or are looking for a healthier option, this would be perfect. 
Peppermint Mocha 6.5/10
Starbucks Description: Our festive all-star Peppermint Mocha brightens the holidays: signature Espresso Roast combines with steamed milk, sweet mocha sauce and peppermint-flavored syrup, topped with whipped cream and dark chocolate curls.
Evy's Review: The caffeinated cool aunt of the peppermint hot chocolate. It's everything you would expect. Warm, chocolatey goodness with just the right amount of peppermint and a splash of coffee. Mine didn't come with whipped cream on top, but that is what would have given it a perfect score. The coffee in this one isn't too overpowering so this is the ideal midday pick-me-up after a day of holiday shopping. It's almost like you can hear the carolers in the distance when you get a whiff of this one.
Iced Sugar Cookie Almond Milk Latte: 2/10
Starbucks Description: Sugar cookie-flavored syrup combined with Starbucks Blonde® espresso and almond milk over ice, topped with red and green sprinkles.
Jen's Review: Now before I begin this review it should be known that this drink is supposed to be served with round red and green sprinkles on top, mine sadly was not served this way. Instead, I was greeted with a dull dirt drink with way too much ice. I was genuinely excited that one of their holiday drinks was specifically made with almond milk (lactose intolerant friends rise). What I wanted to be a sweet holiday treat, was a dull regular tasting milk drink. I would describe this drink as the barista whispering the words "sugar cookie" ever so slightly into the ice and then hoping the words would make up for the lack of actual cookie. 
Overall, I would rate this drink a 2 out of 5 stars. I would not go out of my way to spend the $5.25 on this sprinkle-less drink. 
Toasted White Mocha: 3/10
Starbucks Description: Hot chocolate taken to a new level—flavors of caramelized white chocolate combined with steamed milk and finished with whipped cream, festive holiday sugar sparkles and crispy white pearls.
Evy's Review: I don't really know where to start with the toasted white mocha. I was expecting a silky, white chocolate dream, and what I instead received was similar to a sugar-infused vanilla latte. To be fair, the flavor of this drink is coming solely from white chocolate sauce which is completely canceled out by the espresso. I apologize to any toasted white mocha lovers out there, but this drink was a miss. I think everyone's better off sticking with a vanilla latte for a similar flavor, without it being sickeningly sweet like the toasted white mocha. 
Chestnut Praline Latte 4.5/10
Starbucks Description: First we begin with our signature espresso and velvety steamed milk, and then add flavors of caramelized chestnuts and spices—all topped with a holiday finale of whipped cream and specially spiced praline crumbs.
Jen's Review: The only time I have ever heard anyone order this drink was when Evy ordered it for this review. This drink, just from its name, did not sound good to me. This drink tasted like someone put the red cup in the same room as a chestnut praline but never actually put it in the cup. It tasted just like an average latte, no extra flavors, just straight hot milk with a splash of bean juice. Have I ever had praline? Not to my knowledge. Maybe I just need to try an actual piece instead of the inspired drink version. 
Caramel Brulée Latte 6.5/10
Starbucks Description: Our signature espresso, steamed milk and rich caramel brulée sauce finished with whipped cream and a supreme topping of even more caramel brulée bits.
Evy's Review: This is your true neutral on the alignment chart. It's almost boring but then there's that hint of caramel brulée, a dessert we all want to love but Starbucks just doesn't get it quite right. Nonetheless, it adds something to the otherwise plain old latte. It's sweet, it's buttery and it's almost good, but it's just not hitting the mark. It truly saddens me because this was my go-to in middle school. Now with a more refined palate, I can't hype it up like I used to. Starbucks, I think you could make this one better with a caramel drizzle and whipped cream.
Bonus drink: Pumpkin Spice Latte (PSL) (3.5/10)
Starbucks Description: Our signature espresso and steamed milk with the celebrated flavor combination of pumpkin, cinnamon, nutmeg and clove. Enjoy it topped with whipped cream and real pumpkin pie spices.
Maybe the baristas were feeling generous and gave us a buy six get a surprise drink free special, but when we arrived at the office we realized they gave us an extra drink. It was the cult classic, PSL.
Jen's Review: What would normally be a 10/10 dropped to a 3/10. While it was free and it is my favorite drink from Starbucks, the actual color was a bit concerning and this has taught me to look in my coffee cups before downing it in one go. It was giving more butternut squash taste than pumpkin.
Evy's Review: The Pumpkin Spice Latte is a fall staple. It's warm, inviting and the perfect amount of sweetness for a latte. I don't enjoy coffee that much but the PSL is something I can't turn down. It's fall in a cup and what I imagine Stars Hollow from Gilmore Girls smells like. I give it an 8/10.
Jen Bowman currently serves as our Managing Editor. Throughout her three years with Alice, she has written multiple stories for both our digital and print channels and contributed to our social media team. Originally from Williamsport, Pennsylvania, she is a current junior studying Public Relations with a minor in Creative Writing. She has previously served as Lifestyle Editor. 
Evy Gallagher currently serves as our Food and Health Editor. Throughout her two years with Alice, she has worked for the social media team and currently writes for both digital and print channels. Originally from Manhattan Beach, California, she is a current junior studying News Media with a minor in Psychology.