Our Lifestyle Editor's experience working as a temporary media staff at the CMA Fest in Nashville, Tennessee. 
Jolie Money | Lifestyle Editor 
College is all about exploring career opportunities and expanding professional networks, as a public relations minor at The University of Alabama, I jumped at the chance to try something new and applied for a position as a temporary media staff for the CMA Fest in Nashville, Tennessee.  
When I received an acceptance email, I was thrilled to head to Nashville for an amazing opportunity to not only observe professionals in my field, but it would also give me the chance to work in the music industry. 
The Country Music Association (CMA) Fest is the longest-running country music festival in the world with multiple stages around Nashville, including stages that are free to view performances at. Each night culminates with headliners at Nissan Stadium. The festival fundraises for the CMA Foundation which promotes music education across the United States. 
On Wednesday, June 8, I took an early road trip from my hometown of Headland, Alabama to Nashville. My first stop of the day was at the CMA headquarters for a quick COVID-19 test, and then I picked up my credentials at the Music City Center. (I feel professional just typing "credentials.") 
With all of my duties for the day finished, I spent some time walking around the Country Music Hall of Fame and the Johnny Cash Museum to satisfy all of my touristy bucket list items before the week got too busy. 
Thursday kicked off my first day on the job, and to say I was excited would be an understatement. I ended up arriving at Nissan Stadium—the venue I was assigned to—an hour and a half before my shift started.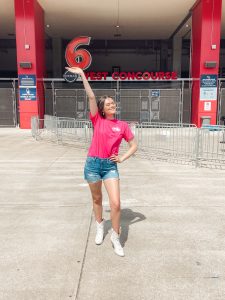 Every shift began with a wellness check, and Thursday night, the check was followed by a tour of the media area of the stadium and our position assignments. I was assigned to be a liaison for CMA's in-house interviewer and the artists' publicists. 
In-house media served as a replacement for a press conference. Instead of a crowd of media, artists were just interviewed by one person, and that footage would be sent to media outlets who were not attending the festival. I communicated with artists' publicists as they arrived at interviews, ensured that in-house media was prepared before each interview, and kept interviews on schedule.  
The interviewer, Laura Huie, and the tech operators from Cinematic Focus Video, treated me with such kindness, and their professionalism and efficiency during interviews with artists was commendable. Even if I had just sat back and watched as they conducted interviews, I would have been able to learn so much from them. 
As artists like Darius Rucker, Zac Brown Band, Jason Aldean and Keith Urban came through for their interviews, I was struck by the sense of familiarity and community. From the CMA workers and media, to the artists and publicists, people greeted each other as old friends. It was amazing to see how a big city like Nashville can feel small. 
Something else that stood out to me was the palpable excitement everyone carried. Due to the pandemic, the festival had not been put on for two years, so artists, fans and staff alike were brimming with joy at being back. 
Much of the week went by like Thursday night. Saturday night, our room had the addition of the Extra news outlet, so I also kept track of their interviews. 
In between interviews, Huie and other media staff chatted with me and offered me words of advice for my career, sharing stories about their own entrances into media and connecting me with potential professional opportunities. 
Though the festival was coming to a bittersweet ending, Sunday was full of fun. Many of the performers, like Angie K, Everette, Kylie Morgan and Parker McCollum, were up-and-comers who had never played a stadium before. They were all ecstatic, and it was amazing to see such monumental moments in their careers before my eyes. 
As the night came to a close, I hung up my headset and said my good-byes knowing that this opportunity was a unique experience for any college student, and the skills and connections I gained from such a short period will endure throughout my future career. 
Jolie Money currently serves as our Lifestyle Editor. She is a current senior, majoring in English with a minor in public relations. The Headland, Alabama native loves thrifting, yelling at reality TV shows, and personality quizzes. She has previously served as a writing contributor.