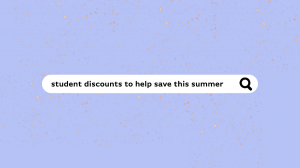 By: Cat Clinton
Students living on campus this Fall are likely trying to keep a low budget, and a few locations around town are making it easy. Whether your college experience consists of classes, a job or internships, it should be possible to save money and enjoy these four years simultaneously. Everyone knows the financial benefits of cooking meals at home, but occasional splurges are understandable and even encouraged when discounts are taken advantage of in the process. 
Starting off with Moe's Monday, we have two restaurants to keep in mind. Starting us off is Moe's Southwest Grill, which offers customers a burrito with chips and salsa for $5.99 on Mondays. Typing in a phone number at the end of a visit can also help collect customer's points to earn free meal items, and to hear "Welcome to Moe's" announced as they walked through the threshold is a milestone everyone should experience. There is another Moe's in town, however, and they are providing students with additional dining options at a discount. Moe's Original BarBQue provides marinated or smoked wings at 50 cents apiece from 7:30 to 9 p.m., making the day known as "Moe's Monday, " and quite frankly, deserving of the title. The atmosphere is relaxed, the staff is friendly, and it's conveniently located right off University Boulevard, making it a great place to enjoy a casual night out for students living close to campus.
"I got the job through a friend from my hometown, so I always felt comfortable here." Christopher Porter, a current employee at Moe's BBQ said, "The only night it's not chill is Thursday when we do our [drink specials]."
Next up is the CMX Cinemas Hollywood 16 & IMAX, offering a program known as Terrific Tuesday. This special offer provides $5.50 movie tickets for all ages, as long as the film is not considered a blockbuster. Blockbusters are easy to spot because they are made up of an A-list cast, a large budget and a public relations team that markets for months in advance. This deal even rolls around until 5 p.m. on Wednesday. Next time a date night is needed, remember this classic. Some things are timeless for a reason, and spending a night out at the theater is one. 
Heat Pizza Bar is another local favorite, offering discounts on pizza and cocktails all week, with offers ranging from Cobb salads to Greek pizza, and Byron Brophy, the current manager, offered a rundown of the discounts: starting with Monday's $6 large cheese and pepperoni pizza night, Tuesday's $7 Thai-chicken pizza, Wednesday's $7 chicken bacon ranch pizza, Thursdays combine deals to give students $5 cocktails for ladies as well as the $6 cheese and pepperoni pizza, Friday's offers happy hour from 2-4 p.m., with an additional half off on appetizers. The discounts even continue on to Saturday with half-off appetizers, although their homemade ranch may be the best part.  
"My favorite thing on the menu would probably have to be the Thai-chicken pizza," said Brophy. "Although, my favorites are always changing."
Finishing off the week is our last mention, with a 15% off discount for all University of Alabama students and faculty, T-Town Cafe. This restaurant is a cozy, home-style breakfast or lunch setting, where the manager recommends the club sandwich or catfish, and the cake tastes like someone's grandmother made it. 
"We mainly get locals, but we get a good number of athletes, students and faculty too," Olivia Bachtold, current manager of T-Town Cafe said. 
Whether interested in Mexican food, movies, wings, pizza or home-style southern food, Tuscaloosa may just have it, and at a discount too, as long as students pick the right day. With proper planning, Tuscaloosa provides opportunities for students to enjoy going out while also saving money. Spoiling yourself can be acceptable with the help of these local favorites. So remember these spots next time there is a need for a night out without breaking the bank.