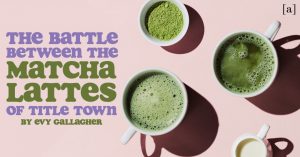 By Evy Gallagher
I always wanted to like coffee. I liked the idea of going to coffee shops, ordering a cappuccino and sipping it by the window. By the time I was old enough to start drinking coffee, my anxiety was bad enough that I didn't want to worsen it by drinking a lot of caffeine. It took me almost five years, but I found an alternative drink with lesser caffeine content and no "withdrawal" headaches or other gnarly side effects: Matcha. To be honest, I just about gagged when I first tried matcha. It was from Dunkin' Donuts and tasted like a mix of seaweed, dirt and sugar, a horrendous combination. After a few more times of trying matcha at local coffee shops, I began to enjoy it. Not only did it have great health benefits, but I liked drinking it and I liked the routine. When I got to college, I was bent on finding the best matcha in Tuscaloosa and I may just have found it. 
For reference, my order is a small, iced matcha with almond milk and a little bit of honey. 
Monarch Espresso Bar: First things first, Monarch's matcha is unsweetened which I much prefer. It's smooth, creamy and the perfect amount of sweetness from the honey. I did notice that it seemed like the matcha settled toward the bottom which can happen if it's not mixed enough or not whisked properly. The matcha flavor was masked almost too much by the almond milk, but I still enjoyed it. Their matcha is pastel green in color which holds true to most other coffee shops as well. The sippy cup lid also gave Monarch a few brownie points. I give it a 7/10.
Turbo Coffee: I don't want to say Turbo is my favorite, but it's my favorite. Turbo hand whisks their matcha with a bamboo whisk which makes the whole experience feel more meaningful. I never ask for light ice, but I think they understand I want more matcha and less ice, without actually having to tell them that. The almond milk makes the matcha perfectly creamy without completely hiding the umami flavor. I would also like to say that the honey they add is always the right amount of sweetness which enhances the drink entirely. This is definitely one matcha that I enjoy every minute of. 8.5/10.
Flinderz Café and Tea: Flinderz took me for a turn. The only alternative milk they serve here is oat milk, which while not my first choice, I'll always try something at least once. Flinderz also uses unsweetened matcha powder, which in my opinion, is the only way to go. So for this latte, I ordered an iced matcha with oat milk and a little bit of honey. To my surprise, I really enjoyed it. The oat milk certainly gave it a different flavor, and it almost made it more savory if that's possible. Even though almond milk is my go-to, this new oat milk version is something I could see myself ordering again. Flinderz also offers an iced espresso matcha drink if that's something that tickles your fancy. Overall, I'll give it an 8/10. 
Just Love Coffee: Unfortunately, Just Love Coffee only serves a pre-sweetened matcha latte. As much as I would love to get on the sweetened matcha bandwagon, I just can't. Matcha has a ton of great health benefits. According to Tenzo, matcha can boost your immune system, improve your heart health and is great for your skin, along with many other benefits. Mixing pure matcha with sugar, fillers and whole milk defeats the purpose of it. The Just Love Coffee cups were cute, the matcha looked great, but it did not taste good. I'm sorry Just Love Coffee, matcha should never be pre-sweetened. I give it a 3/10. 
To conclude my journey of finding the best matcha in Tuscaloosa, Turbo Coffee takes the cake. Their matcha is unbeatable, and not only is the latte itself amazing, but the entire experience is also something worth noting. My favorite pairing is an iced matcha with one of their gluten-free muffins, especially banana nut if they have them in stock. Next time you find yourself in Title Town, stop by Turbo Coffee on Eighth Street and you can thank me later.