Spinach, Artichoke and Chicken Grilled Cheese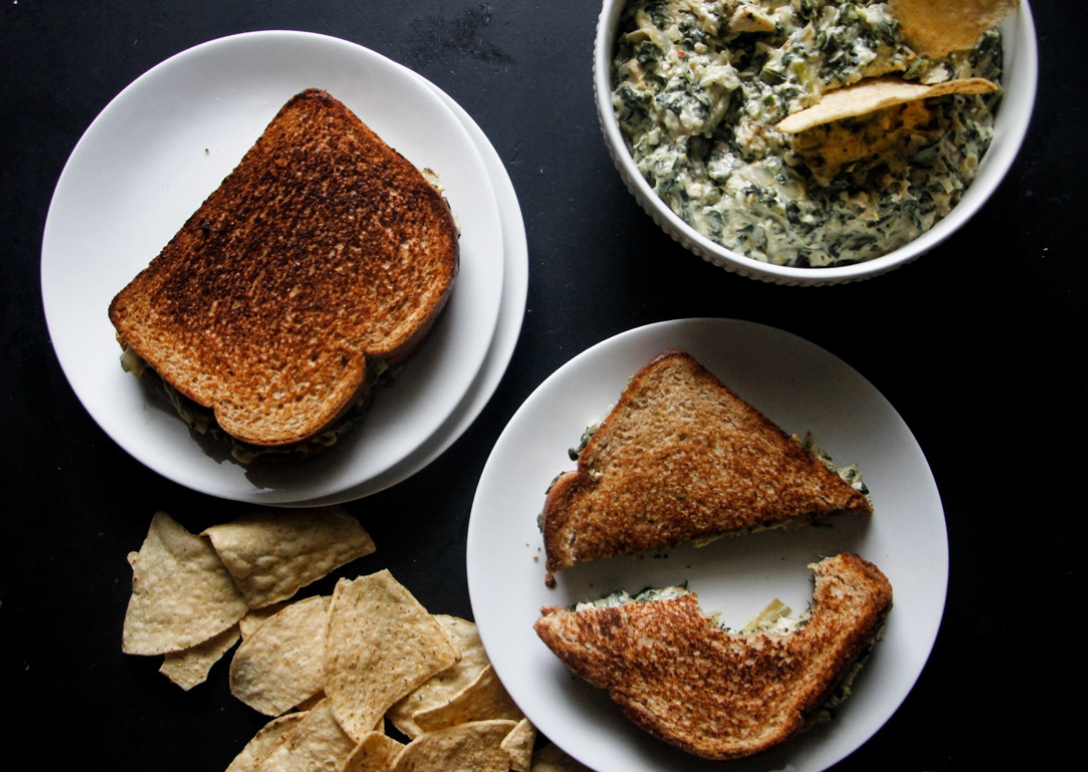 By Mary Clay Kline
We're now in the height of football — ahem, tailgating — season. Though I enjoy rallying behind my college football team (Roll Tide!), what I care most about football season is the food involved: cream cheese glossed with pepper jelly and served with Wheat Thins, saucy BBQ wings, peppers bursting with cheese at their bacon-wrapped seams, and an array of dips that would outshine the cleverest homemaker.
One of my favorite dips to share is the illusive spinach artichoke dip. Creamy, cheesy and chock-full of hidden vegetables, it's perfect for people who want to pretend like they're watching what they're eating on gameday (me). Spinach artichoke dip is also a wonderful vehicle for achieving my perfect chip-to-dip ratio: at least half of the chip must be covered in dip.
I bring you this precious dip/grilled cheese combination as my affinity for grilled cheese almost outweighs my love for spinach artichoke dip. It only makes sense to fuse the two into a delicious sandwich.
I added chicken to make this sandwich a little heartier, but it could easily be left out. And no judgement here if you decide to eat this sandwich alongside some extra dip. I'd do the same.
Spinach, Artichoke and Chicken Grilled Cheese Ingredients
2 Tablespoons oil, divided
½ lb chicken breasts
Salt and pepper
½ white onion
1 clove garlic
1 can artichoke hearts, chopped fine or pulsed in a food processor
1 10-oz. Package frozen spinach, thawed and drained
8 oz. cream cheese
4 oz. (½ cup) fontina cheese, shredded
⅓ cup parmesan cheese, grated
¼ teasooon red pepper flakes
Salt and pepper, to taste
16 slices bread of your choice
Butter or baking spray
Chips or crackers for extra dip
Spinach, Artichoke and Chicken Grilled Cheese Cooking Directions
Heat 1 Tablespoon oil in a medium saute pan over medium heat.  Salt/pepper chicken breasts.  Add chicken to pan once oil is heated, cooking 3-4 minutes on each side or until cooked throughout.  Chop chicken once cooled.

Heat 1 Tablespoon oil in a large saucepan over medium heat.  Once heated, add onion and saute until translucent.  Add garlic and saute 1 minute or until slightly browned.

Add artichoke hearts and spinach, stirring frequently for 2 minutes.

Add cream cheese, fontina, and parmesan and stir until everything melts together.  Stir in cooked and chopped chicken.

Season with salt, pepper, and red pepper flakes.

Spread dip on one slice of bread and top with more fontina cheese if desired.  Sandwich with other piece of bread.  Repeat for desired number of sandwiches.

Heat a small saute pan over medium heat.  Either butter both sides of the bread, add butter to the saute pan, or spray the saute pan with baking spray.

Once pan is hot, place sandwiches, one or two at a time, in the pan, flipping after 1-2 minutes or until browned.  Repeat for desired number of sandwiches.
Photo by Mary Clay Kline.