By: Sarah Hartsell
As I'm sitting by the window in my room, I can't help but think what should I do since my afternoon plans have been ruined by the rain. So, I came up with the best things to do on a rainy day and decided it would be best to share them (that way your plans don't get ruined, too).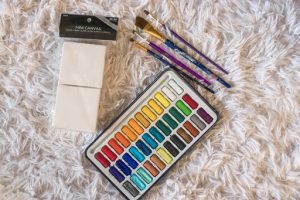 Work on an art project.

By art project, I really mean any sort of

artsy

thing that makes you happy. This can be anything from painting to knitting to photoshopping you with your favorite celebrity for the fun of it. 

Watch a wholesome movie. Put on one of your favorites that puts you in a good mood and makes you feel all warm inside. I think of movies like "To All the Boys I Loved Before" and "Love Simon."
Read a good book. I loved reading books as a child and that hasn't changed since then, but I often find myself making up excuses as to why I do not have enough time to read. A rainy day is a perfect opportunity to pick up a book you have been meaning to get around to or resort back to one of your favorites.
Call a friend or family member you haven't talked to in a while.  I love doing this on a rainy day. It gives me the opportunity to catch up with someone who I have been meaning to talk to, but just haven't gotten around to. It makes me feel better and often times it brings joy to the person you called because it shows you care about them. As dorky as this may sound I love calling my grandma because I know she is excited to hear from me, and I always love talking to her.
Bake or cook something. Whether you are the type of person who enjoys a sweet treat or a cooking a whole meal, this one is definitely the plan for you. Cook up your favorite dish or something from your food board on Pinterest! In the end, you get to enjoy whatever yummy creation you decide on (personally. I am a brownie girl)
Plan an outing for another day. I love planning fun little adventures for my friends and I to go on. Normally, I pick a couple of local activities and a new restaurant to try and make a day out of it. A rainy day is a perfect day for the planning process and to see when your friends are available to hang out.
Download a free video game to play around with.

There are so many free games to download no matter what kind of device you have. One of my favorite things to do is download low-quality

free

horror games to my laptop and play around with them. Since they are free, there is no downside if I do not enjoy playing them!

Take a nap. It's easy to fall asleep with the lull of the rain creating the perfect environment to fall asleep, so allow yourself to give in to it. Snuggle up with a bunch of blankets and pillows and curl up into a comfy position to catch up on your sleep.
Pamper yourself! Do something nice for your body. I suggest taking a nice hot bath or shower followed by a face mask. If you are really feeling it, paint your nails, too!
Do something productive.  I know the main thing I want to do on a rainy day is to be lazy, but if you feel up to it get one task done. This can be scheduling an appointment, doing your laundry, studying for a test or replying to all your emails. Whatever you do get done you will feel better that it is over with.

Rainy days might seem like an excuse to feel down, but I see them as an opportunity to practice self-care.