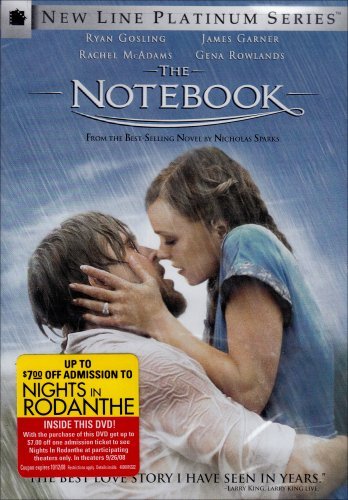 If you're stuck at home on a rainy day, what better way to pass the hours than with a movie marathon? These seven movies are a must for any day that is seemingly doomed by ice, rain or other gloomy precipitation. Relax as you melt in your comfy sheets and complete your movie binge with your favorite snacks. At the end of the day, you'll thank yourself for a day well-spent.
The Notebook
If you have never seen "The Notebook," come out from under that rock of yours. This 2004 classic is the perfect movie for a rainy day. Enjoy watching Ryan Gosling beg for Rachel McAdams to love him. If you have read any Nicholas Sparks books or watched his movies, then you know you might shed a tear or two by the end.
ESPN 30 for 30
Love sports? Love documentaries? Then you'll love the "ESPN 30 for 30" series. With the first film premiering in 2009, this series has evolved into award-winning documentaries on sports figures that will have you bawling your eyes out or smiling from ear to ear. "Without Bias," a 30 for 30 classic, is about a first-round draft pick in the NBA overdosing on cocaine the day after he was drafted.
The Lovely Bones
Oscar-nominated "The Lovely Bones"  is an emotional roller coaster. A young girl, Susie Salmon, has been murdered and is now watching over her family. As her Dad tries to find her murderer, Susie attempts to help from the other side. This movie is guaranteed to keep your eyes locked on the screen.
White Chicks
Characters Kevin and Marcus are two police officers that go the extra mile to impress their boss when they dress up as two female celebrities that can no longer be seen in public due to abrasions on their face. If you need a pick-me-up, "White Chicks" will make you laugh until you cry with its hilarious adventures and shenanigans.
The Truman Show
Ever think people were watching you? Well, that was Truman Burbanks' harsh reality. Portrayed by Jim Carrey, Truman is living his everyday life but doesn't know that the whole world is watching. He later finds out that it's all a hoax, but how does he react? Watch this mind-blowing classic to find out.
Love and Basketball
Young love. At age 11, Monica and Quincy become neighbors. They find out they have lots in common, such as dreaming of playing in the NBA, but they do not get along. When high school ends, they start to date, but will it last? "Love and Basketball" will have you all in your feelings. You might just text your ex at the end of this flick.
Ex Machina
Into robots and science? "Ex Machina" is for you. A genius computer programmer constructs a robot named Ava. She is smarter than anything on the planet due to the knowledge she gains from servers around the world. IMDB gives this a 7/10, but it is a must watch. You won't be able to take your eyes off the screen if you pop this movie in.