By Lindsey Wilkinson 
Most college-aged bookworms grew up on dystopian novels. The kind of books that had just enough reality to make them question the society surrounding them, such as The Hunger Games, Divergent and Maze Runner series. 
Katharine McGee explores a genre that is closely related revolving around alternative history in her New York Times best-selling novel, "American Royals." Alternative history asks, "What if," whereas dystopian novels explore a projected future. 
"American Royals" explores an American society that is consumed by monarchs. The Washington's royal blood dates back to George Washington, and the throne has been held by a male heir ever since. The late king, King Edward III, famously stopped the male-only succession and switched it to the oldest child. With this rule in play, Beatrice Washington, Princess Royal, will be the first queen regnant. 
The novel is a tale full of drama, suspense, heartbreak, rebellion and betrayal with a modern-day monarch twist. 
One interesting angle that is explored is International Affairs. The American experiment of representational democracy caught like wildfire across the globe, leading many countries to revolt against their systems of government. What if George Washington had become a king instead? This question is the heartbeat of the book. Marriages used as political leverage and romances decreed by treaties are concepts that are mostly left in the time period of Mary Queen of Scots, but McGee explores the alternative.  
"I hope that young women who read the book feel empowered and inspired to follow their dreams, and to lift each other up," McGee said. 
The book is structured into four different points of view: Princess Royal Beatrice, Princess Samantha, Daphne Deighton and Nina Gonzalez. These four women push the story forward, and the use of the different perspectives allows readers to pick out the discrepancies made by the characters.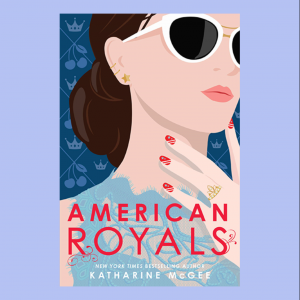 "'American Royals' has plenty of romance and royal drama, but it's also so much more. It's a story about friendships and family—the ways family can hurt us or support us when we need it most—and about young people trying to find their place in the world," McGee said.  
The story of the royal family is one with rich history and complex precedents, but just like any other young woman in America, Beatrice is searching for herself. In her darkest moments, she finds comfort in unexpected places. A strong, loyal and determined young monarch still needs her family to lean on.  
In contrast to Beatrice's regal demeanor, her sister, Samantha, leans into her role as "the spare." Samantha is the life of every party, and she isn't afraid to tell the world what she wants. Behind every champagne cheer, there is an aura of longing to be understood by those closest to her. In her quest to rebel against the societal pressures, Samantha discovers what is truly important. 
Samantha's best friend, Nina Gonzalez, is a commoner whose parents work for the crown. Despite her lack of royal blood, Nina does not envy the spotlight that surrounds her best friend. In fact, everyone at her college has no idea that she spends her weekends going to galas and state-sponsored dinners. Nina finds that the harder she tries to stay out of the limelight, the more that strangers get to speculate about who she is. 
Daphne is portrayed as a very unlikeable character. She's stone-cold, manipulative and calculated. Moving as though she is playing a game of chess, Daphne can't afford another loss. After her breakup with Prince Jefferson, it seemed her world had practically stopped. Secrets she could never say out loud threaten to bubble up beneath her ceramic surface, and she will do whatever it takes to move up in the world.  
Each character may, at first glance, seem too regal to be relatable, but the overarching theme underlined in each chapter is that everyone is not as they seem. We all want to be loved, reach our goals and make ourselves and the ones we cherish proud. When the million-dollar dresses are stripped, the smiles erased and the crown removed, you might see yourself in these characters. 
The story of the Washington's is a thought-provoking story even amidst the glamour and glitz. It calls into question the role of a monarchy in society. Through the narrative, one can start to see the benefits and drawbacks of having a royal family. 
After receiving praise from best-selling authors, like Sara Shepard, Kendare Blake and Sarah J. Maas, the only thing left to do is get a copy of your own. If you are venturing out on a road trip, getting cozy on a rainy day, or sitting by the pool, "American Royals" is sure to keep you entertained and running to the bookstore for the second installment- "American Royals II: Majesty."
If you like this, try this: 
TV Series: The Crown and Reign 
Books: Red, White & Royal Blue and The Selection