Using MyFitnessPal for a healthy lifestyle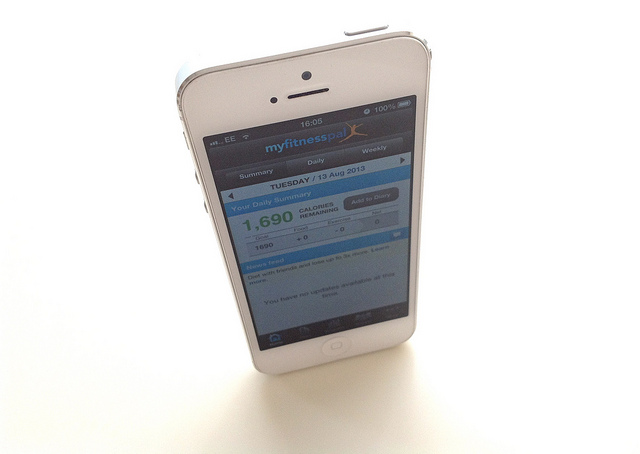 By Madison Sullivan
One would think that in the age of finding and tracking information at the tap of a finger, the fitness-obsessed would be overjoyed at the number of apps with the sole target of making their users the healthiest versions of themselves. It's surprising to me, that as I log my food and exercise each day, there are a large number of people who have questions about the apps I use.
Over the next few weeks I will break down apps I have used in the past, apps that have been recommended to me, and the apps I use now. Hopefully this series will give those of you who are interested in incorporating a little technology into your workout routine an opportunity to find something that works for you.
It's only fair to begin with the app that jump-started the healthy lifestyle I live today: MyFitnessPal. This app tracks both my food and my exercise. I typically get a weird look or two when I explain that I can tell you exactly what I've consumed every day of my life since my sophomore year of high school, but I will also say that I truly believe this app has helped me make conscious choices about what I put into my body. I believe that if you are beginning a fitness journey, whether it's to lose weight, bulk up, or simply pay closer attention to your sodium intake, there is a way for you to use MyFitnessPal.
According to the MyFitnessPal's website, the app was designed to make calorie counting and food tracking easy. It is a free website and mobile app with over 5 million foods in its database.
How it's used
Once you've clicked on the little blue square on your smartphone's screen and created your account, you'll find a banner stretching across the home page informing you of your calorie goal, the calories you've consumed throughout the day, and the calories you've burned. Especially handy, you will find the number of calories you have remaining. You will also see links to MyFitnessPal's blog, where you can find posts on everything from cost-effective healthy recipes, to how to curb junk food cravings. If you are attempting to lose weight, you can track your progress by simply clicking on the "Progress" tab along the bottom of the screen.
For many, the main draw to the app is the "Diary" tab. Here you'll find a day-by-day, meal-by-meal breakdown of what you've consumed. By clicking "+ Add Food" you can easily search for any food you can think of under the, Frequent, My Foods, Meals, and Recipes tabs. Being as vague or as specific as you'd like, you can search for the food by type, restaurant or the item's name on the menu. Once you've found what you're looking for, you can select the serving size and number of servings. Simply click the check at the top of the screen and it will appear back on your diary log.
How it compares to other apps
For the sake of transparency, I will inform you all that I am a FitBit addict, and (thankfully) I can link my FitBit to MyFitnessPal. I use my FitBit Surge to track my water intake, my sleep, and my exercise, since it tracks my heart rate, and calorie burn accurately.
A few years ago, when I took a brief hiatus from MyFitnessPal and tried to solely log my food on FitBit, I struggled to find all of the foods that I was eating. When I realized that I could use the two in tandem, and re-downloaded MyFitnessPal, I was reminded of just how many foods were available, and was pleased with the number of updates they had made. On MyFitnessPal you can now find complete menus for many restaurants, making it easier to log entire meals. The app also gives you reminders to not "break your logging streak," and to not go over your sugar, sodium, and fat intakes for the day.
Photo by Health Gauge; Flickr Creative Commons.