Edamame, Feta and Tomato Salad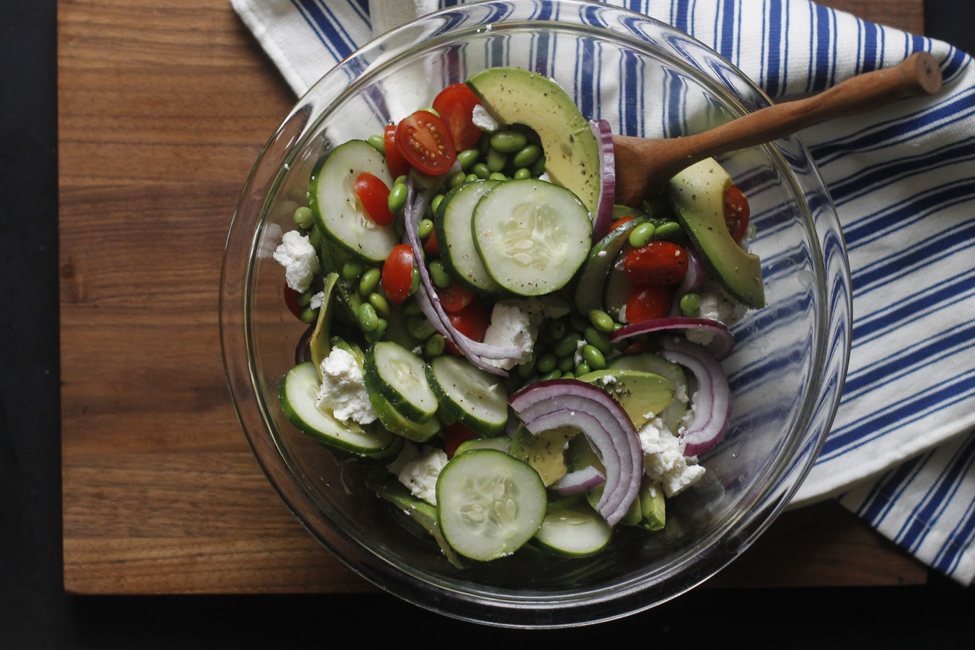 By Mary Clay Kline
exciting, exhausting, difficult, different, draining, fascinating, special, foreign, new
The start of a new school year is a summation of all of these words and more.  Ask anyone.
We return from summers spent vacationing or interning, working or hibernating.  If you're like me, you hardly even picked up a pencil over the past several months, and are experiencing a fierce reality check.  At the start of the semester we're celebrating friendships, old and new; we're fretting over professors with wretched reputations and silently rejoicing over "easy A" classes we'll need to boost our GPAs.  We're making sure we know where to find North Lawn Hall and how exactly to navigate Reese Phifer.
Perhaps you spent your summer abroad, exploring new places and going on adventures and making memories; this semester is nothing new.
Or maybe you sat in a lifeguard stand all summer, eyes glazed over, haphazardly watching over children whose chances of drowning were less than slim.
Maybe you're a freshman, entering college for the first time, expecting the semester of a lifetime, or perhaps not knowing what to expect.  
Or it's possible that this is your last semester, and you want to relish these months for all they're worth before you head out into the Great Wide Unknown.
The start of the semester can be intimidating, but it is also empowering.  The beginning of a semester is when you'll set the pace for the next several months.  This is when you make friendships that will last the rest of your college career, if not the rest of your life.  This is your chance to make lasting impressions on your professors.  This is your opportunity to get involved in clubs on campus, or to fit in that exercise class you've always wanted to try, or just to grab a coffee with a friend every Tuesday.
This is also time for you to carve out time for yourself, whether that means picking a book you've been meaning to read for a while or spending time in the kitchen.  
I like to make a delicious, easy salad like this edamame, feta and tomato salad to lunch on while the weather still feels summery and tomatoes are still braving the Alabama heat.  The salad feels healthy and light because of all of the produce involved, and my heart beats for the hunks of salty feta cheese.  
This light and flavorful salad takes about 5 minutes to make and is perfect for beginning of the semester adventures, whether you're picnicking in the park with new friends, cramming for your first quiz, or just taking a break for sanity's sake.
Salad Ingredients
Serves 2-3
1 12 ounce bag frozen edamame, thawed
1 cup cherry tomatoes, halved
4 ounces feta cheese
¼ red onion, sliced
1 avocado, sliced
½ cucumber, sliced
Salt and pepper
Cooking Directions
Combine all ingredients.  Sprinkle with salt and pepper to taste.