by Carson Cook
Picture this: You're on the sideline in Bryant Denny Stadium. The crowd is deafening, and you're floating high above the ground in the palm of someone's hand. For most of us, that seems like a dream. For Alabama cheerleaders, it's just another Saturday. The University of Alabama Crimson Tide Cheerleaders program is nationally recognized as one of the top cheer programs in the country. Ellen Coleman Edwards, a sophomore from Mountain Brook, Ala., and a second-year cheerleader, gave us the scoop on what goes into being an Alabama cheerleader.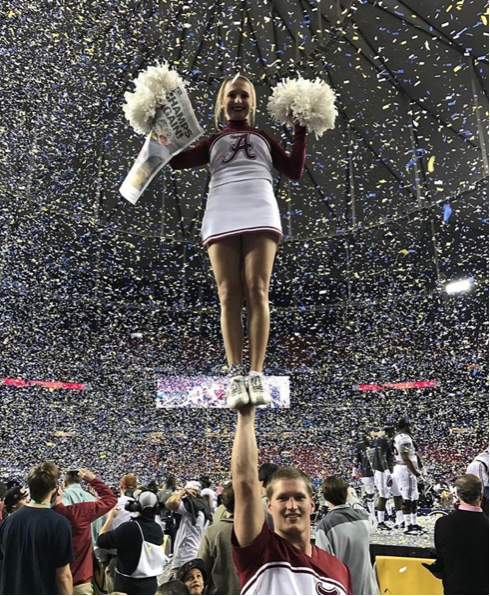 Ellen Coleman — EC, as most call her — has been cheering since she was nine years old. Her mother was also a UA cheerleader, so cheering there has been a lifelong dream for EC. She is a flyer on the co-ed squad. They cheer for all football games, both home and away, and for all men's home basketball games. Although UA does not recognize cheerleading as an official sport (they're actually listed under the Marketing department) make no mistake, they are athletes.
"As cheerleaders, we're at every athletic event, we train as athletes and with athletes from other sports, and we compete," Ellen Coleman said.
I talked to EC about the fitness routines and nutrition tips that a college cheerleader abides by in order to perform their best and best prepare for competition. She said a typical practice begins with team stretching and a light warm up that includes running, planks and jumping jacks. Then they warm up stunts. If someone falls, they run the stunt again until everyone hits each move solidly. During the beginning of the season, they focus on perfecting gameday cheers and stunts, but once they have those down they start preparing their routine for Nationals. With such intense workouts, stretching and using ice or heat on sore areas is encouraged by their trainers after every practice.
"The trainers do a great job of protecting us. There are not a lot of injuries, but the most common would probably be twisting an ankle from tumbling or a concussion from falling out of pyramids," EC said. She noted that the workouts can get tough, but she keeps going, knowing that the hard work she puts in every day at practice will pay off at competitions.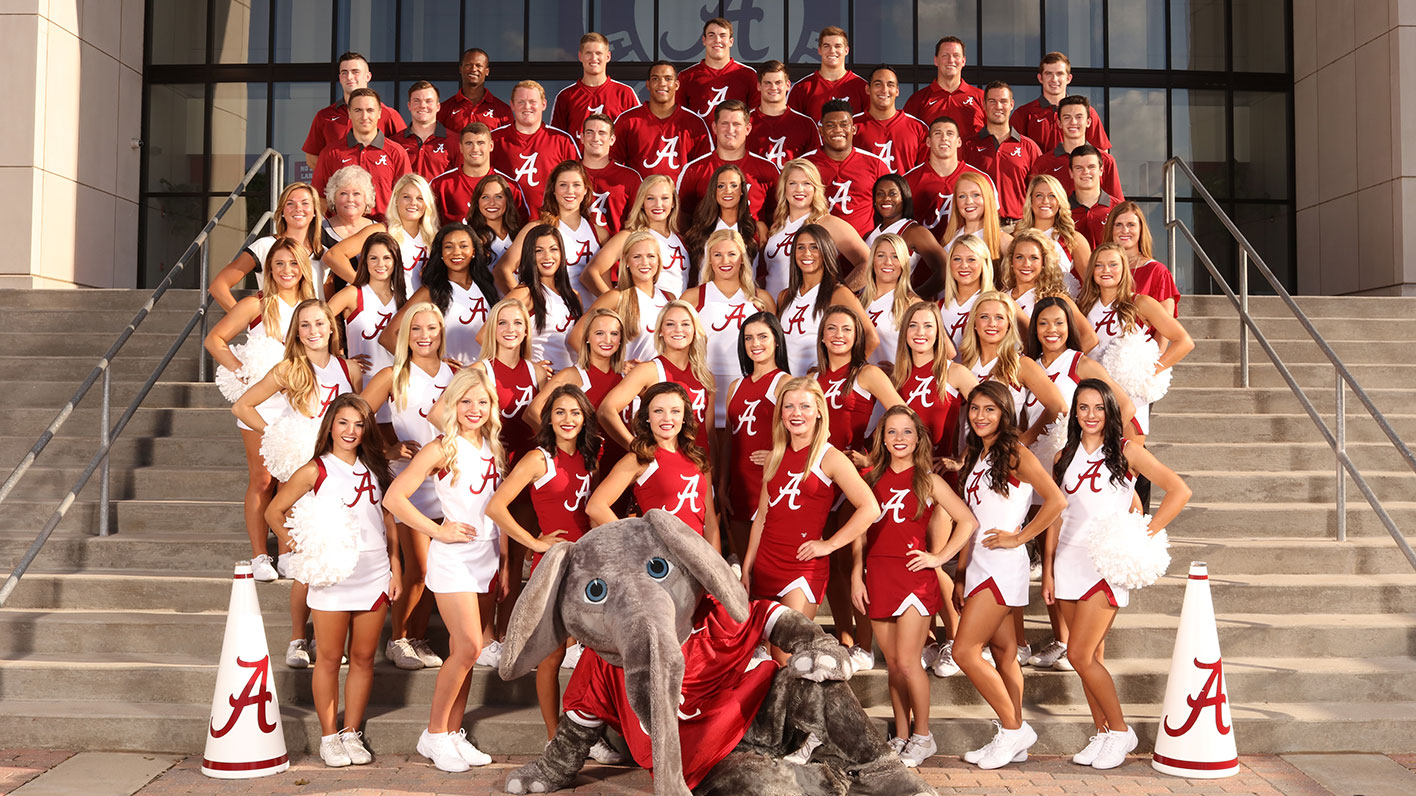 The squad does not employ dietitians, but their trainers encourage them to eat a well-balanced diet and to eat enough to sustain the physical activities they participate in. Fruit and protein bars are always readily available for them before and after practices and workouts. EC's go-to snacks are an apple with peanut butter or carrots with hummus. Staying hydrated with plenty of water all day is also imperative. The trainers and coaches make a point to promote positive body image for both the men and women. If a trainer notices drastic changes in a cheerleader's body throughout the season and deems it unhealthy, that cheerleader will not be allowed to cheer until the problem is remedied.
Cheerleading at UA is an incredible honor that takes incredible cardiovascular endurance to perform routines as well as the strength and flexibility to execute stunts. Ellen Coleman said that her best advice for training like a college cheerleader is to implement balance in everything. Supplement weight training with distance running or whatever form of cardio you prefer. Try to push yourself physically at least 5 times a week, but take time to actively recover to prevent injuries and over-exhaustion. Eat to fuel your body so it will perform its best.
Follow the workout below to work out like a cheerleader, but from home!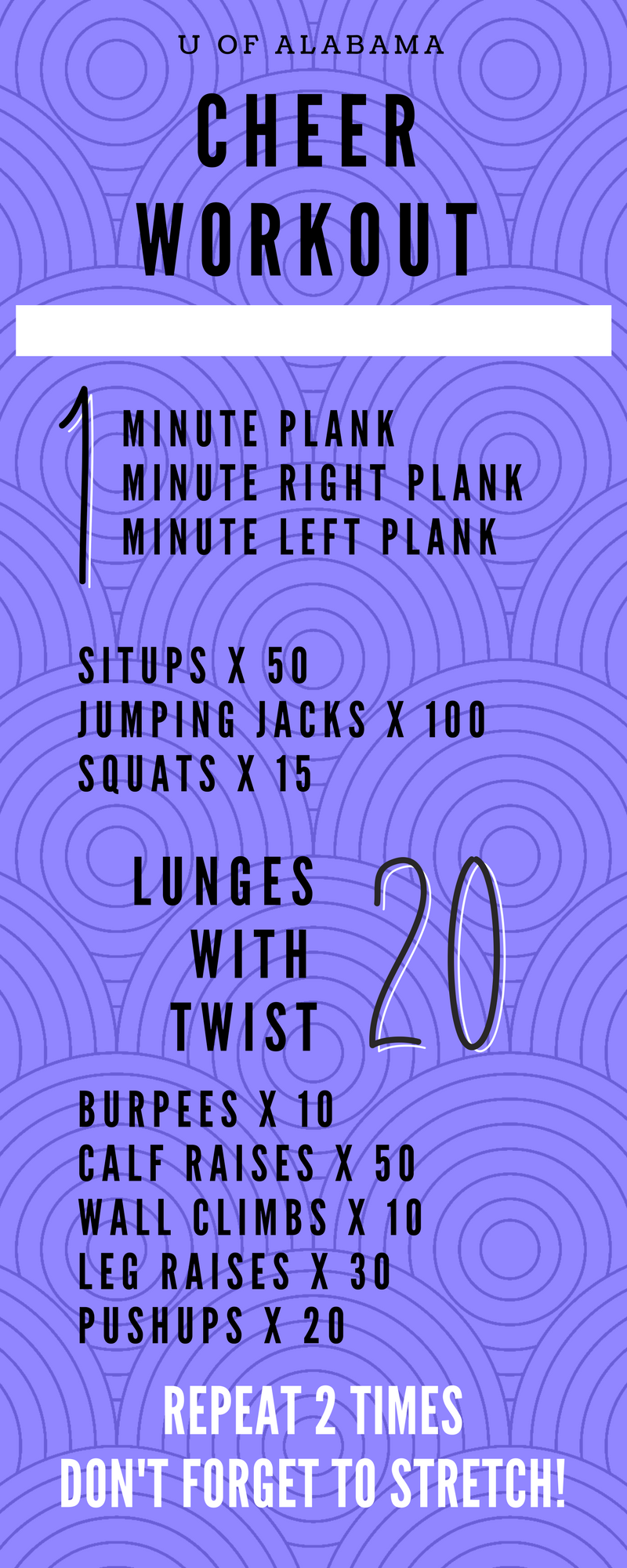 Photo credit: rolltide.com, Ellen Coleman Edwards