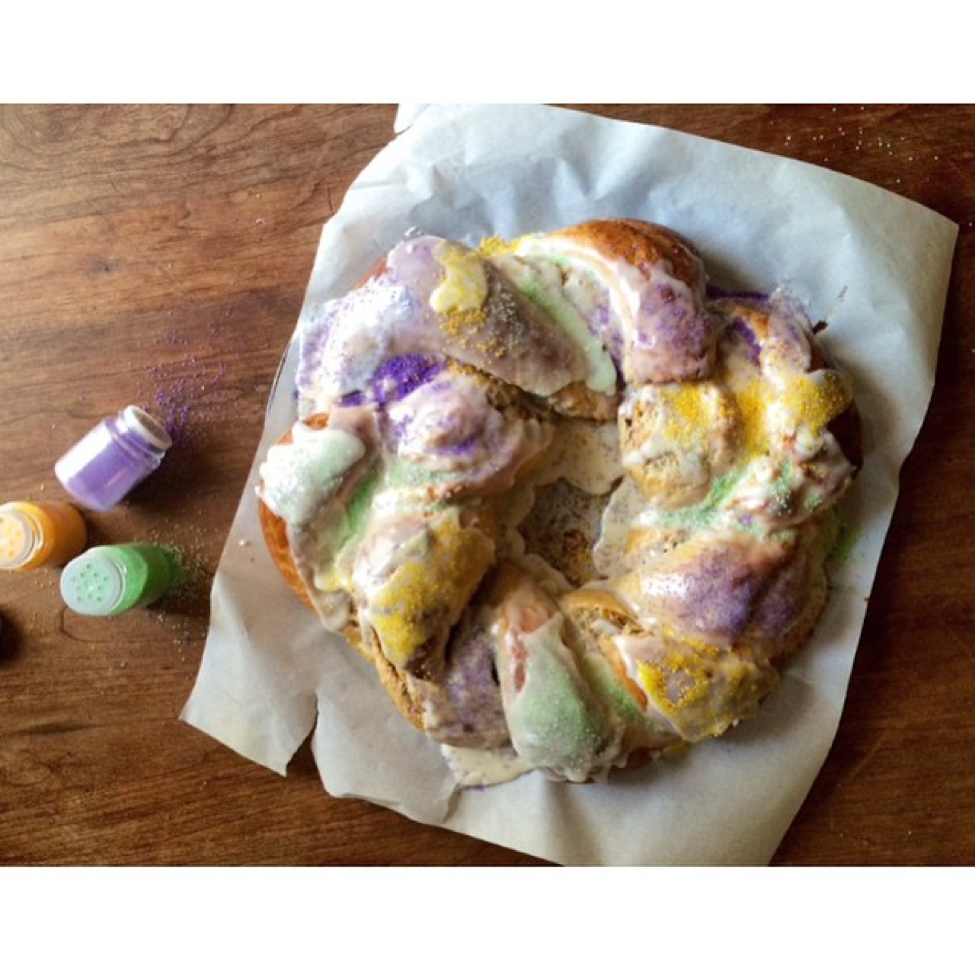 By Mary Clay Kline
Laissez bons temps rouler!
If you've grown up in a church that celebrates Lent, and if you've grown up in the deep South, then Mardi Gras means two things: pancakes and king cake.
For those of you unfamiliar with the latter, let me inform you.  It's basically a giant cinnamon roll filled with good things, and if you find the plastic baby inside you win.  Or you lose, I guess, if that means you have to buy the king cake the next year. Have your king cake and eat it, too.
This king cake is decadent and beautiful and topped with sprinkles.  And in addition to the plastic baby, it's got cream cheese and cinnamon inside (yum!). It's everything you could possibly want in a cinnamon roll, but in cake form.
I know this king cake looks difficult to make.  It takes time.  But that's really all it takes!  Make this on Sunday afternoon, and get some eager (and hungry) friends to help. And if you needed to be further convinced to bake this (not to brag), my king cake has been proclaimed by a New Orleans native friend as the best king cake he's ever eaten.
And for Lent: Are you giving anything up? Taking anything on?  I think I'm giving up refined sugar and flour. But that doesn't mean those foods won't show up on this blog – they totally will (including a super fun Valentiney recipe coming next week!!).

But until February 10, I'll be happily enjoying this sugar-filled king cake.  Who's with me?
King Cake Ingredients
2 Tablespoons active dry yeast
1 cup milk, warm (about 110-115 degrees)
⅓ cup granulated sugar
¾ cup (1 ½ sticks) unsalted butter
5 egg yolks
1 teaspoon vanilla extract
4 ½ cups all purpose flour
½ teaspoon salt
1 Tablespoon ground cinnamon
½ teaspoon freshly grated nutmeg
Sprinkles, for topping
Small plastic baby (if you can find one) to tuck inside
Filling Ingredients
4 ounces (½ block) neufchâtel or cream cheese, room temperature
3 cups powdered sugar
1-2 Tablespoons milk
2 teaspoons ground cinnamon
Glaze Ingredients
2 cups powdered sugar
¼ cup milk
1 Tablespoon fresh squeezed lemon juice
King Cake Cooking Directions
King Cake
Serves 16
Recipe adapted from Joy the Baker
In the warm milk, dissolve yeast and sugar.  Let sit for 5 minutes or until frothy and bubbly looking.  

Melt butter in a small skillet, and once melted, let cool slightly.  Then beat milk and yeast mixture, butter, eggs, and vanilla together.  

Combine flour, salt, sugar, and nutmeg in the bowl of a stand mixer or in a large bowl, if kneading by hand.

Slowly pour the wet ingredients into the dry, having the stand mixer's dough hook slowly do all the work, or stir ingredients with a spatula if kneading by hand.

If using a stand mixer, let the dough hook do its job until a soft, malleable dough ball has formed.  If kneading by hand, knead dough for 5 minutes or until dough is pliable.

Let dough rise in a covered bowl for 1 ½ hours or until dough has doubled in size.

Make the filling.  Combine filling ingredients and stir with a spatula or handheld mixer.

After rising time, split dough in half.  Roll out the first half of the dough into a rectangle and spread half of the mixture on the dough.  Roll back up lengthwise, and repeat this step with the other half of the dough.

Once you have two rolls of dough, twist them like a braid, and then connect the two ends to make a wreath.  Place dough on a greased baking sheet to rise for 30 minutes or until dough has again doubled.  Place the baby inside the cake at this point if you're planning on using one!

Preheat oven to 350.  Once dough has risen, place king cake in the oven for 25-30 minutes or until golden brown.

Make the glaze.  Combine glaze ingredients in a bowl, adding more powdered sugar or milk until desired thickness is reached.

Take cake out of oven to cool.  Once completely cooled, glaze cake and decorate with sprinkles – gold, green, and purple are Mardi Gras colors!