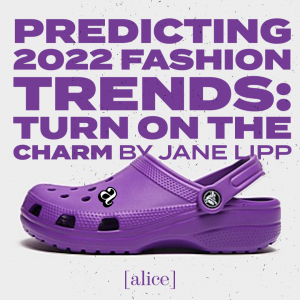 By Jane Lipp 
The pandemic has contributed to the fashion industry's continued embrace of sneakers, and this love fest has birthed a charming new trend. COVID-19 undeniably popularized athleisure wear since more people are staying at home for school and work. Fast forward to 2022 when people are bidding their bank accounts away on some of the most exclusive designer sneakers, proving running shoes are no longer just for running. Some of the most well-known brands include Off-White, Golden Goose, Air Jordans and Yeezy. But these high fashion sneakers, and their high prices, make them unattainable for most, enter the sneaker charm.
Whether you aspire to be the next Anna Wintour, or you're a blue jeans and white T-shirt extraordinaire, sneaker charms are the perfect new trend to glamify those old tennis shoes collecting dust in your closet. It is no secret the sneaker industry has taken the fashion world by storm. According to fastcompany.com, the sneaker industry is expected to reach $120 billion by 2026. Consumers have kicked off their fantasy red-bottom high heels, and in turn, designers such as Christian Louboutin have pivoted to release high-end sneaker collections. As streetwear and urban-based designs continue to gain popularity, designers have proven that sneakers are not only for the purpose of athleticism but are also a way for individuals to showcase their inner fashionista. Some of the most well-known high fashion sneakers stand out because of the attention paid to small design details and re-interpretations of some of the most recognizable logos. Dreaming of a pair of new Christian Dior sneakers? If you can't afford the $2,000 investment, the average cost of Dior sneakers, the magic of the emerging sneaker charm market can help you purchase a Dior shoe charm for $300 or less. Or better yet, discover a new designer on Etsy, where sneaker charm choices are rapidly expanding and are priced as low as five dollars.  Attach a designer charm, or two or three, to any old pair of sneakers, and bibbidi bobbidi boo…you have a reimagined pair of kicks that can cast more sparkle than glass slippers.
One could argue sneaker charms have an unglamorous origin. In 2005, a mother of three who wanted her children's Crocs to be more personalized created small plastic decorations that could be pushed into the holes of Crocs (or perhaps she was just trying to disguise the overall look of the shoe). These bright plastic charms were branded as Jibbitz and became so popular, so quickly, that the Crocs corporation purchased the Jibbitz company in 2006 for $10 million. For the next fifteen years, these small plastic push-in embellishments became ubiquitous among Crocs wearers. And then, as often happens in the fashion industry, something clicked in a different and surprising way, and suddenly shoe charms are all about sneakers and glamor. The beauty of fashion is it is forever changing and evolving as new trends come and go.
Sneaker charms allow people to showcase their personality through a wide variety of designs, colors, and options in how or where they attach the charms to their sneakers. Choices for charm embellishments range from small iron-on patches, dangle charms on small clips or keychain loops, metal bar charms that attach to shoelaces, and even charms on rubber bands offering lots of creative choices for attaching bling to sneakers. Popular brands selling sneaker charms include Baublebar, Lace Charms, and Evry Jewels. Sneaker charms are also the perfect solution to slowing down fast fashion, by recycling tired, worn-out shoes, into revived customized sneakers that can be worn with a favorite tracksuit or summer dress. Want an even less expensive solution that slows down fast fashion even more so? Sharpen your DIY skills, and design your own sneaker charms using clips, beads, necklace charms, or other small treasures. Sneaker charms offer the perfect solution to appearing high-end on a budget. Upgrade your sneakers that were so 2021, and step into 2022 as the fashionista you were made to be.