Alice contributor Nora Wahlbrink is spending her semester studying in Prague, Czech Republic. While she is abroad, she will share travel tips and tales from her adventures. This post has been backlogged from her website.
by Nora Wahlbrink, edited by Mary Clay Kline
There's no better way to see Europe than to eat your way through it.
1. Amsterdam, Netherlands 
This city might be known for its partying, but its food is definitely noteworthy too.
For brunch: G's
Truly the best meal I've had since being in Europe, which is really saying something since I've been eating A LOT. To start, this place has images of rappers like Kanye, ASAP Rocky, Drake, and Jay-Z decorating its walls and menu so obviously, they play great music if you're into that kind of thing. The best thing on the menu: Brunch Dip on Crack, which is avocado, bacon, goat cheese, and a mess of other favorite breakfast foods. It's a must-have, trust me. They also have a huge assortment of bloody marys and delicious oysters.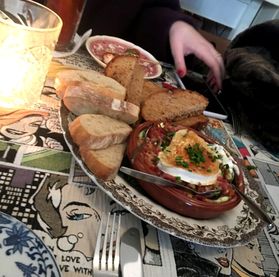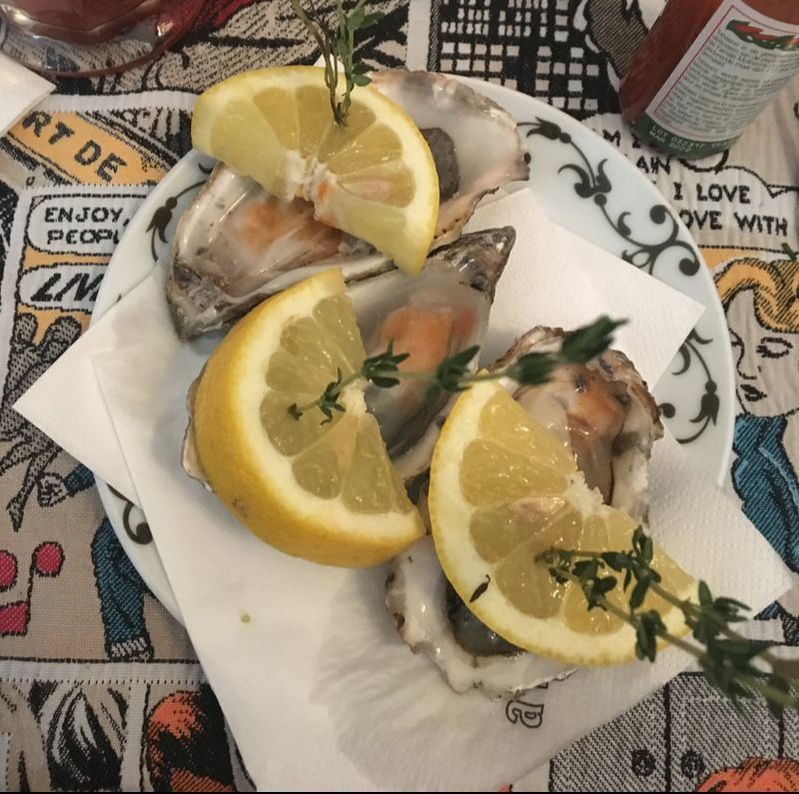 For dinner: happyhappyjoyjoy
This is Asian tapas like you've never seen before. This place is bustling, so you have to make a reservation for dinner, but it is undeniably worth it. The menu is huge and ranges from egg rolls to curry to pad thai. Each dish is fairly small, so you can sample two or three dishes yourself, or get a bunch for the table and all share. If you like curry, I highly recommend the Keng Phed Neau (spicy red curry).
2. Interlaken, Switzerland 
The Swiss have perfected two of the greatest foods of all time: chocolate and cheese.
For chocolate: Funky Chocolate Club
If you love chocolate, you need to take a chocolate making workshop here. You mix your own chocolate, pour it into the mold, and do a lot of chocolate tasting along the way. You come out of it with three bars of the best chocolate you've ever had that you made and decorated yourself. It might seem a little pricey at 65 Franc (69 USD), but I'm here to tell you it's totally worth it. Pro tip: Switzerland is known for milk chocolate because they have the happiest cows in the world (or so they say), so if you want the full experience choose milk over dark!
For fondue: Restaurant Taverne in Interlaken Hotel
If you go to Switzerland, eating a lot of cheese is mandatory, and I'm pretty sure fondue is the best form of cheese. Restaurant Taverne has cheese fondue all the time, but on weekend evenings they have a fondue buffet with endless choices of veggies, bread, and meats to dip. At 39 Franc (41 USD), it's not a bad price for an upscale restaurant and endless fondue.
3. Copenhagen, Denmark
It's one of the happiest cities in the world, and I think the food might have something to do with it.
For brunch: Mad & Kaffe
I'm a big fan of tapas because you get to try a little bit of everything, which is probably why I loved this place so much. You can choose to get three, five, or seven menu items and you end up with this smorgasbord of brunch food that is absolutely mouthwatering. I highly recommend the avocado with chili sauce, and the bacon. Pro tip: this place doesn't take reservations and it's very busy, so try to go early and put your name on the list.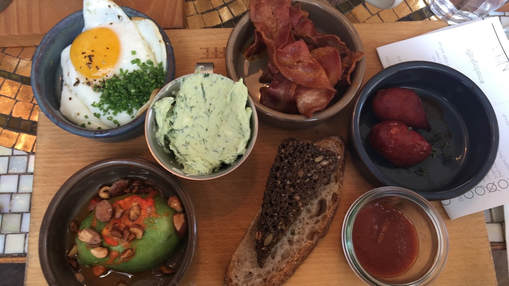 For hot dogs: Mystery Hot Dog Stand
​I had this amazing hot dog on the way home from a night out and I didn't write the name of the stand down – rookie mistake and very sad story. Here's what I know: It's right across from the Hard Rock Café near Strøget (the longest pedestrian street in Europe), and it starts with "STE" which I know from a picture. If you ever visit Copenhagen and find out the name, I owe you big time. Otherwise, I'll spend a lifetime wondering where I ate that perfect dog.