What's on our nightstand?
By Ellen Johnson
A trip to Barnes & Noble can be a panic-inducing adventure even for the most devoted bibliophiles. Rows of tables advertise the season's hottest reads, and we're left wondering how we'll ever find a good book in a sea of choices. As college students, it isn't always easy to find new books, or even find time to read at all. Instead of a Netflix break, try reading some of our favorites this season. Here's what's on our nightstand this month: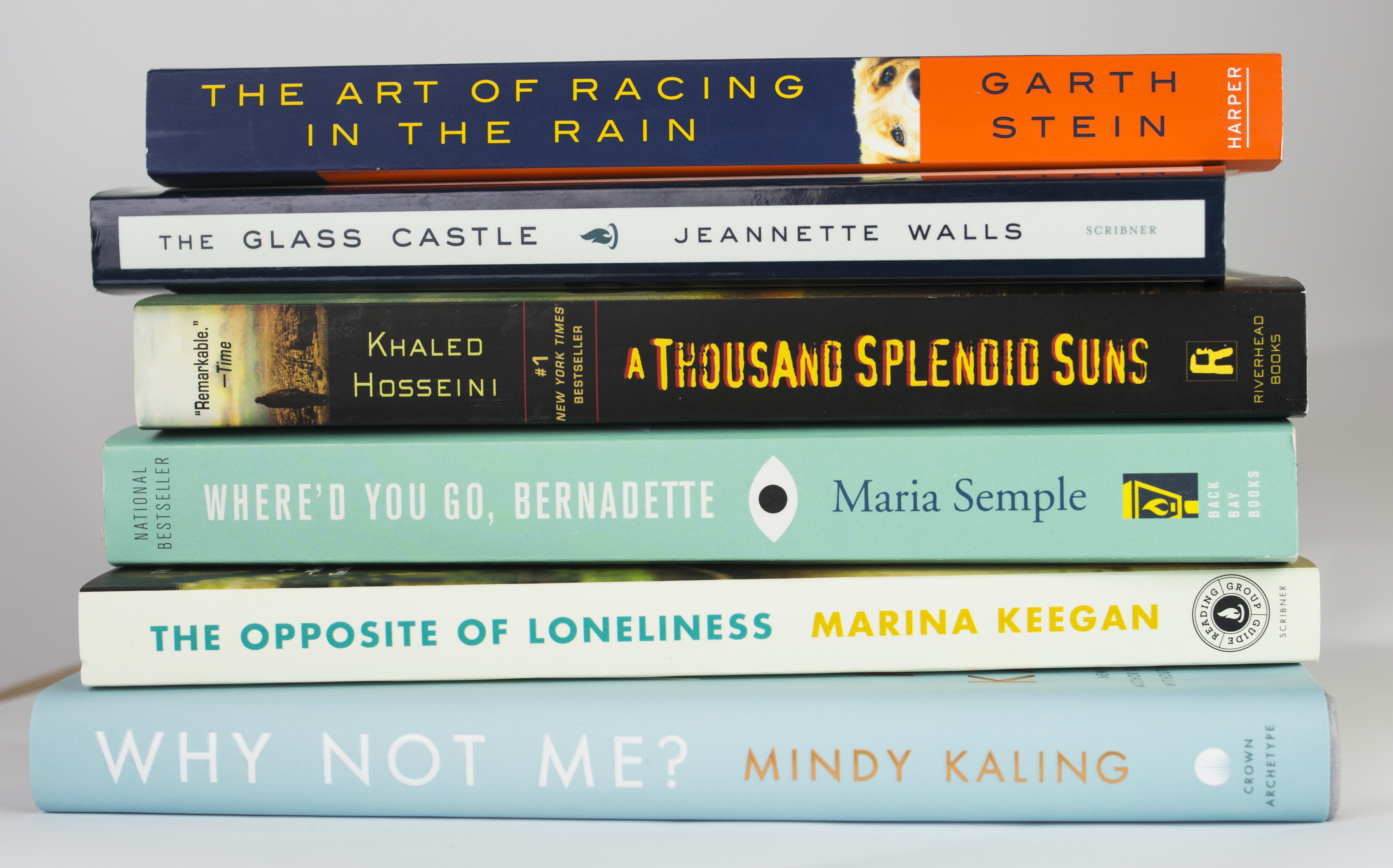 Not all great stories are told from the human perspective. Calling all animal lovers, this book is told by family dog Enzo. Enzo loves his master, Denny, and Denny loves Enzo. They help each other through life, and sometimes it's hard to tell which is the human. If you enjoyed Marley and Me by John Grogan, or you just have a special place in your heart for a four-legged friend, chances are you'll get a kick out of this sweet story.
After The Kite Runner became a classic novel beloved by millions, Hosseini released A Thousand Splendid Suns in 2008. The story chronicles thirty years of Afghan history through the eyes of two women, Mariam and Laila. Throughout the story, readers catch glimpses of what it's like to be a woman in the Middle East. Despite abusive treatment, both women grow to be strong and powerful. The female soul is empowered in this tale of love and friendship.
This collection of both fiction and nonfiction essays and stories personifies the heart and soul of a college girl figuring out her place in this world. Author Marina Keegan graduated from Yale University in 2012 and had a bright future ahead of her. Five days after graduation, she died in a car crash, after which her essay for the Yale Daily News, The Opposite of Loneliness became a global sensation. Keegan's parents then set about collecting her works for this book, which was published posthumously.
In this moving memoir, Jeannette Walls tells the true story of unconditional love and growing up in an offbeat family. Walls mixes both imagination and reality as she recounts her memories. She spent the first part of her childhood moving from place to place with her free-spirited parents, who raised their children while yielding to their wanderlust. But when the family runs out of money, Walls and her siblings are often left to fend for themselves in a life of poverty.
This charming novel is an easy read that's sure to please. Published in 2012, the story centers on Bee Branch, a fifteen-year-old girl who wants nothing more than to go to Antarctica. When Bee's eccentric mother, Bernadette, goes missing right in the middle of her intervention, Bee and her father, Elgin, must band together to reunite their family. Through a series of emails, documents and letters, Bee begins to solve the mystery of the missing Bernadette. If you're looking for a whimsical and upbeat story, this unforgettable book might be just what you're looking for.
After the popularity of her first book, Is Everyone Hanging Out Without Me? (And Other Concerns), actress and comedian Mindy Kaling released her second book, Why Not Me? in September of this year. In this entertaining collection of essays, Kaling writes of her trials and tribulations in finding her place in Hollywood. With openness and wit, Kaling shares her story in a manner that is as poignant as it is laugh-out-loud hilarious. Check out this book if you're a fan of other snappy stories like Bossypants by Tina Fey and Yes Please by Amy Poehler.