Published on 10/24 at 10:44 a.m.
By: Amelia Morrison
With Halloween next week, the search for the perfect costume has long been underway for some people, while others aren't quite so prepared. If you're not ready to shell out the big bucks or spend all your evenings crafting to create your look, you're not out of options. You can create cute, quirky or elaborate costumes with just a few simple pieces and some makeup. If you have no idea what you're going to wear this spooky season, check out the top three easiest makeup looks to give you an awesome costume:
Scarecrow
This look is so simple, yet so striking when you're done! You start with a simple foundation, powder, and eyebrows. For eyeshadow, you can use a smokey orange, a simple gold or a soft brown, with dramatic mascara and winged black eyeliner. Then, using an orange lipstick or eyeshadow (or face paint, if you prefer), draw orange circles on each cheek and a triangle on the tip of your nose. With a black eyeliner pencil, outline the triangle on your nose and draw vertical tick marks to give the patched effect. Using the same pencil, draw lines from each corner of your mouth to the middle of your cheeks and make the same vertical tick marks along them. Fill in your lips with black lipstick (you can also use black eyeshadow with lip gloss or chapstick as an adhesive), then voila! Appreciate your new look. You can draw other patched pieces anywhere you like, following the pattern of drawing a shape in black, adding vertical tick marks, and filling it in with orange. Pair this look with jeans or shorts and a plaid top for a complete costume! 
Bonus: A large straw hat can give this look an extra pop!
Deer
Dressing as a deer is something simple and is super easy, without sacrificing being cute. Starting with foundation for an even skin tone, apply bronzer or brown eye shadow across the top of your forehead and sweeping down along the side of the face and underneath the cheekbone. A soft brown eyeshadow, black mascara, and eyeliner around the entire eye complete that part of the look. Using a white eyeliner pencil, draw dots throughout the brown shading. Then, using a black eyeliner pencil, color the bottom portion of your nose and trace a line from there to your top lip. Fill in your top lip with black lipstick, and you're done! A white or brown top with a brown skirt or leggings is the simplest way to complete this costume. 
Bonus: Pulling your hair into two tall buns on either side gives the hint of antlers, and goes great with this look!
3: Vampire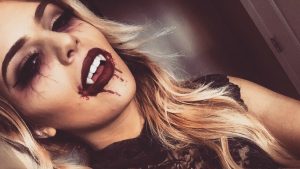 Although the entire world is no longer clamoring to pretend to be a Cullen for the night, a fun and glamorous vampire look can still steal the show. For this look, ditch the stereotypical overly pale base makeup and stick with a foundation in your natural color. Shape and fill in your eyebrows, and be generous with bronzer and highlight – make those cheekbones pop! For your eyeshadow, you want a dramatic smokey eye with dark red or maroon shading on the lid and under the eye, with thick eyeliner and dramatic or lengthening mascara. Use a very thin, dense brush, and the same dark red or maroon eyeshadow to draw vein-like lines creeping down from your eye. Finish up with a dark maroon lipstick, which you can also use to smudge around the corners of your mouth, and draw faux blood drips on your chin. After this, you're ready to be a creature of the night! This look is best completed by a more dramatic outfit than the last two, but the type is up to you. Short and sexy LBD? Floor-length, Morticia-reminiscent ball gown? Cute crop top and skinny jeans? This look is completely versatile and can work with whatever outfit you choose!
Bonus: A pair of faux fangs can bring this costume to the next level.