Pumpkin Bread with Cinnamon Cream Cheese Swirl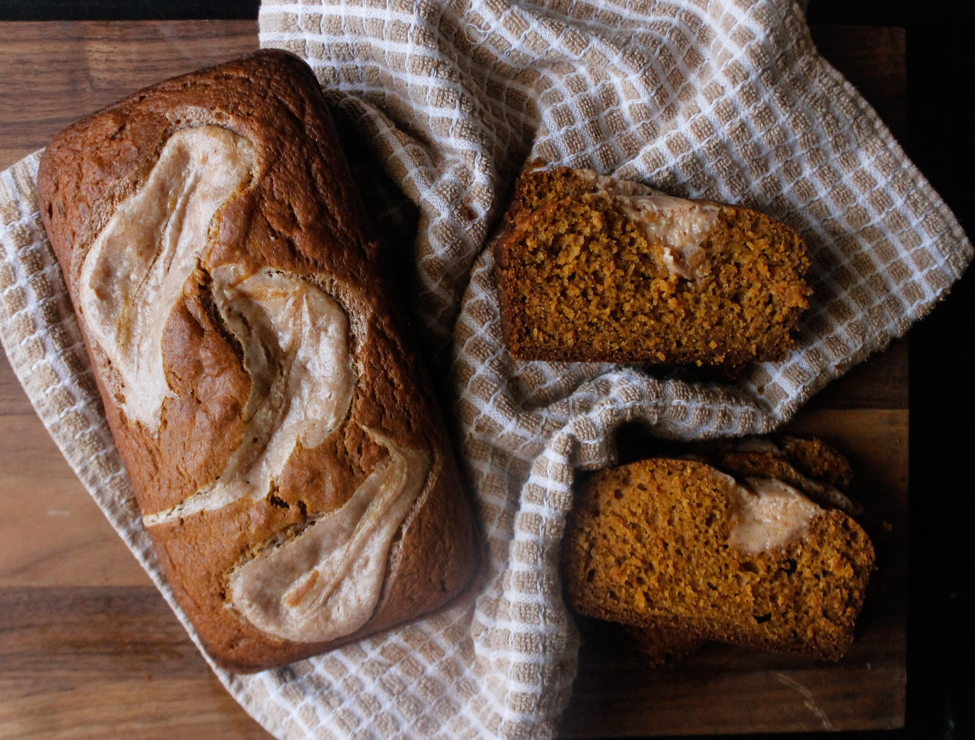 By Mary Clay Kline
I have always heard flowery stories of grandmothers who spent hours slaving over the stove, crafting creamy mashed potatoes, old-school style, with lots of milk and butter; multi-layered biscuits you can't wait to sink your teeth into; roasted chickens with crackly, crispy skin; and rich chocolate layer cake for dessert.
I always wondered what life would be like if I had a grandmother who liked to cook. Neither of mine enjoy the process, and while I have plenty of other wonderful memories of them both, I feel kind of gipped. It seems nearly everyone has plenty of "grandma cooking memories" to share, while I have none. It seems like a travesty, especially for a food writer.
Nevertheless, I survived a childhood of only a few meals at grandma's, and I'm content with that. Instead, I got to enjoy Miss Jo's cooking.
Miss Jo is my godmother, and she is perhaps one of the best cooks I know. I've devoured bowls of her spaghetti, and slurped down plenty of her gumbo, a dish that began my love affair with okra. Her most revered culinary feat, however, is her pumpkin bread.
Once or twice each fall, upon arriving home from school, my mom and I would discover a foil-wrapped package on our doorstep. Our eyes lit up with excitement: the pumpkin bread fairy had arrived.
We carried the gift into our kitchen and carefully unwrapped the foil packaging. Inside laid a precious, perfect, golden loaf that enveloped us in a gingery, cinnamon-scented perfume. We each cut ourselves a thick slice and browned them in our toaster oven before slathering them with butter. We indulged in our pumpkin bread slices with bliss. This was our quintessential fall treat.
When I went off to college, I knew Miss Jo's pumpkin bread would be something I missed most about home. Fortunately, she eagerly handed over the recipe, and she encouraged me to share it, saying, "It is one of those recipes that needs to be passed down!" I'm happy to spread the good news.
I've made this bread several times, each one just as perfect as the last. This time around, I added a cinnamon cream cheese swirl to Miss Jo's traditional, sans-swirl recipe. It's delicious either way.
Pumpkin Bread Ingredients
2 ¼ cups all-purpose flour
1 ½ teaspoons baking powder
1 ½ teaspoons baking soda
½ teaspoon kosher salt
1 ½ teaspoons ground cinnamon
½ teaspoon ground cloves
½ teaspoon ground ginger
½ teaspoon grated nutmeg
1 cup granulated sugar
½ cup brown sugar
1 cup canola oil (or other neutral oil)
1 15-ounce can pumpkin puree (not pumpkin pie filling)
3 eggs
1 teaspoon vanilla extract
4 ounces cream cheese, softened
¼ cup powdered sugar
2 teaspoons milk
¼ teaspoon ground cinnamon
Pumpkin Bread Cooking Directions
Preheat the oven to 350 degrees and grease two 9×5-inch loaf pans. Combine flour, baking soda, baking powder, salt, and spices in large bowl. In a medium bowl, combine sugar, oil, pumpkin puree, eggs, and vanilla.

Fold wet ingredients into the dry. Pour even amounts of batter into each loaf pan.

Place cream cheese and powdered sugar in a medium bowl. Beat with handheld mixer until combined. Pour in milk and cinnamon and beat until combined.. Add more milk or powdered sugar until desired consistency is reached. Swirl cream cheese into batter.

Place pans in the oven and bake for 45 minutes or until cooked throughout. Cool before slicing.
Photo by Mary Clay Kline.