Blast From The Past
The Y2K flick you should, like, totally watch tonight – based on your zodiac sign, duh. 
Emie Garrett | Entertainment Editor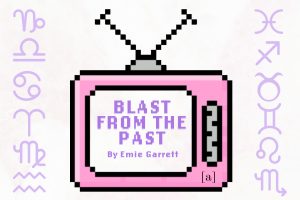 Ahh, the early 2000s. The era of the lowest low-rise jeans, Sun In Hair Lightener, that satisfying smack of slamming a pink Razor cell phone shut and, of course, the infamous Juicy Couture tracksuit.  
The Y2K era, spanning from 1995 to 2004, was marked by people ready to jump into a new millennium. From the heavy use of silver and white in fashion, to music videos that looked like they were filmed inside a microwave, everyone had their eyes on the future.  
The fashion and music industries weren't the only ones spinning out iconic material left and right. In the early 2000s, teen movies reigned supreme, and thus, the world was blessed with some truly era-defining cinema.  
So, if you're in the mood for a little nostalgia but don't have any Von Dutch apparel or Lancôme Juicy Tubes readily available – look no further. Here's a list of the Y2K teen movies* you should watch during your next night-in based on your zodiac sign. 
*We know a few of these films fall just outside of the respective Y2K period, but they're just too good not to include.  
Capricorn (Dec. 22 – Jan. 19): "John Tucker Must Die" 
Leave it to a Capricorn to successfully carry out a revenge plot on the man who wronged them. When three girls, played by Sophia Bush, Ashanti and Arielle Kebbel, who are each in different cliques—how long has it been since you heard that word— realize they're dating the same guy, the high school's popular jock, John Tucker, played by Jesse Metcalfe, they enlist the help of the new girl, played by Brittany Snow, to exact their revenge, ruining his precious reputation. Disciplined and naturally driven to succeed, Capricorns will love the plan cooked up by the leading ladies of  "John Tucker Must Die." 
Aquarius (Jan. 20 – Feb. 18): "What A Girl Wants" 
A free spirit through and through, Aquarians will likely find a kindred spirit in Daphne Reynolds. It's always been just Daphne and her mom, played Kelly Preston, but after turning 17 year old Daphne, played by 2000s teen movie queen, Amanda Bynes, wants to see if the dad she never met is out there somewhere. With just a name, an old picture and a backpack, Daphne sets off for London and finds that her dad, played by Colin Firth, is a Lord running for high political office. When he invites Daphne to stay with him and his family, things don't exactly go smoothly. Aquarians will absolutely adore Daphne's happy-go-lucky attitude, optimism and ingenuity.  
Pisces (Feb. 19 – March 20): "Aquamarine" 
Okay, okay, how much more obvious could this one be? Pisces is the fish, after all. Fish jokes aside, "Aquamarine, played by Sara Paxton," needs to fall in love in three days so she won't be forced into an arranged marriage. Hailey Rogers and Claire Brown, played by JoJo and Emma Roberts respectively, need to figure out a way to stop Hailey's mom from making her move halfway around the world. If someone helps a mermaid, they get one wish. So, when Hailey and Claire find Aquamarine stranded in a swimming pool, it just might be the perfect solution – or the perfect storm. Romantic, fantastical Pisces will love this magical, end-of-summer flick. 
Aries (March 21 – April 19): "Stick It" 
No filter, fiery and competitive Aries might just meet their match in "Stick It" leading lady, Haley Graham, played by Missy Peregrym. Graham was a great gymnast, one of the best. Then she walked out of a career-defining meet and quit gymnastics forever with no explanation, letting her family, friends and teammates down. Ever since, she's been getting in trouble, lots of trouble. After finally taking it too far, a judge sentences  Graham to an elite gymnastics academy run by an infamously tough coach. Will Graham dig her heels in and drive everyone away? Or will she rekindle her love for the sport that took everything away from her? Aries will surely admire Graham's never-back-down attitude, blunt honesty and refusal to let anyone run over her.  
Taurus (April 20 – May 20): "The Princess Diaries" 
Humble, hardworking and hates change, Mia Thermopolis, played by Anne Hathaway, has got to be a Taurus. 15-year-old  Thermopolis is painfully shy and simply wants to blend into the background, and has been semi-successful in doing so. But when her estranged grandmother shows up and tells her she's a princess and the sole heir to the  small European kingdom of Genovia– so much for blending in. She reluctantly agrees to take princess lessons and will later decide if she wants to fulfill her duties as Princess of Genovia. Taureans will find a bit of themselves in Thermopolis's gentle nature and unwavering dedication to duty, no matter how obstacles—self-imposed or not—stand in the way. 
Gemini (May 21 – June 21): "She's The Man" 
Geminis might relate a little too well to feeling like one person playing two roles. Another Amanda Bynes Classic, "She's The Man" is a retelling of "The Twelfth Night" by William Shakespeare. Viola Johnson, played by Amanda Bynes, wants one thing in life, to play college soccer. However, when her school cuts the girls' soccer team, her hopes are shattered. That is, until her twin brother, Sebastian, played by James Kirk, confides that he's skipping town to go on the road with his band after getting kicked out of school. Naturally, Viola takes this as an opportunity to impersonate her brother at his new school, make the boys' soccer team and show everyone just how great she is. Inherently charismatic and funny, Geminis will love Johnson's  iconic one-liners.  
Cancer (June 22 – July 22): "Sisterhood of the Traveling Pants" 
Grab the tissues, Cancer. This heartfelt classic follows four best friends over the course of a life-changing summer. Bridget, Carmen, Tibby and Lena, played Blake Lively, America Ferrera, Amber Tamblyn and Alexis Bledel respectively, were destined to be best friends since before they were born, when their mothers met in Lamaze class and had each girl within the same week. Now they will be apart for the first time, but stay connected by a pair of jeans that magically fit all four girls' varying bodies perfectly. The jeans will see them through first loves, crushing heartbreak, the everyday mundane and the self-discovery that comes with growing up. This movie will speak to every Cancer's soft heart and fulfill their search for comfort, at least for a little while.  
Leo (July 23 – Aug. 22): "Confessions of a Teenage Drama Queen" 
Need we say more? Leo is known for being the drama queen of the zodiac, but who says that's a bad thing? When Mary "Lola" Steppe, played by Lindsay Lohan, is forced to move from the glamor of New York City, where she dreams of one day being on Broadway, to Dellwood, New Jersey, which Steppe nicknames "Deadwood," she thinks her life is over. Then things start looking up when she meets , a cute mechanic, a quiet girl who's equally obsessed with the band, Sidarther and lands the lead role in the school musical. But will her tendency to embellish the truth make everyone turn their back on her? Unapologetically bold and creative, Leos will surely find themselves rooting for Dellwood's resident drama queen. 
Virgo (Aug. 23 – Sept. 22): "Bring It On" 
This list wouldn't be complete without the cheerleading movie to end all cheerleading movies. When the Rancho Carne Toros' newest head cheerleader, Torrance Shipman, played by Kirsten Dunst,gets called out by the new girl for stealing material from the East Compton Clovers, material that has led the squad to win five consecutive national championships, she's appalled, until she does some investigating and realizes it's true. In a mad dash to create a completely original routine that will win them the national championship and help them beat the Clovers fair and square, a cheer-war is waged. Methodical, solution-driven Virgos will love the drive and loyalty that Torrance and Clovers head cheerleader, Isis, played by Gabrielle Union, show to their squads.  
Libra (Sept. 23 – Oct. 23): "Big Fat Liar" 
Don't get offended! No one is calling you a liar. Jason Shepard, played by Frankie Muniz, is a 14-year-old who tends to stretch the truth. Marty Wolf, played by Paul Giamatti, is a Hollywood movie executive who has never told the truth. When the two have a chance encounter that results in Marty stealing, and making a movie out of, a story Jason wrote, what ensues is a couple of clever tweens sneaking across the country to bring down the Big Bad Wolf. Admit it, only a Libra could successfully infiltrate and destroy a corrupt executive's life before they can even drive. 
Scorpio (Oct. 24 – Nov. 22): "Thirteen" 
Not for the faint of heart, "Thirteen" is an intense story of two teenage girls. Tracy Freeland, played by Evan Rachel Wood, is a quiet honor student with a difficult home life and Evie Zamora, played by Nikki Reed, is the school's queen bee. When the unlikely pair become best friends, they seem to be headed for mutually assured destruction. A raw story highlighting the realities many teens face, Scorpios will appreciate the unwavering honesty and relatable angst of "Thirteen." 
Sagittarius (Nov. 23 – Dec. 21): "Josie and the Pussycats" 
Adventure-seeking Sagittarians will be all about Josie and the gang's quirky quest to keep the youth of America's purchasing autonomy intact. When Josie, played by Rachel Leigh Cook, and her bandmates, Melody and Valarie, played by Tara Reid and Rosario Dawson respectively, finally hit it big as Josie and the Pussycats, they think they finally have it all, but wait… Isn't it fishy that they blew up so fast? Slowly, the girls start realizing there may be something sinister happening. Complete with a killer original soundtrack and an aesthetic that Y2K dreams are made of, "Josie and the Pussycats" is a fun, satirical commentary on the rapid news and trend cycles that dominate the way America pumps out and consumes media. Sagittarians will see their own close relationships reflected in the emotional bond the girls share and will have their thirst for adventure and excitement quenched, only temporarily though, duh.  
So there you have it, the Y2K teen movie you should watch on your next movie night, butterfly clips optional. Feel free to mix and match, watch the movies for your sun, moon and rising signs, or for your whole chart—or just watch them all because they're all must-sees. 
Emie Garrett serves as our Entertainment Editor. During her three years at Alice, she has written numerous stories for both our digital and print channels. Originally from Demopolis, Alabama, she earned her Bachelor's degree in public relations from The University of Alabama in 2021, and will begin her second year of graduate studies in the fall, working to earn a Master's degree in advertising and public relations with a concentration in creative advertising.