Trip timeline day 1-4 
By: Laura Fecanin
While sitting on the edge of the Grand Canyon with my best friends, staring at the ombre sunset, all I could think was "this is so not overrated." The Grand Canyon is one of those must-see places. It's like the Eiffel Tower or the Statue of Liberty. I've heard about the Grand Canyon my whole life. So much so, I thought I didn't need to see it for myself, but I was completely wrong. 
No one could ever put into words what I felt when I looked across the rim and saw the beautiful snow-capped mountains on the horizon. At that moment, I knew that all of our scheduling, planning and budgeting had paid off.
The planning process
When I first decided to take this trip, I did what most people would do –I searched Google for the "best sights to see out West." The Grand Canyon was, of course, one of the first destinations to pop up, but we didn't want to stop there. Me and my two friends, Adriana and Courtney, decided we would create a slideshow presentation to map out sites we wanted to see and to create a basic route/spending plan. This would later come in handy when we had to pitch the idea to our parents. After a lot of research, and many slideshow rough drafts, we decided on three main stops: The Grand Canyon, Bryce Canyon and Denver. 
Our overnight sleep breaks were in Dallas, Albuquerque and Springfield, Missouri. Combined with gas and bathroom stops along the way, we saw a total of 11 states in 10 days.
 But first, let me rewind to where it all started -Birmingham, Alabama. 
Day 1 – "Hey Siri, play Wild Wild West by Will Smith" (Birmingham to Dallas)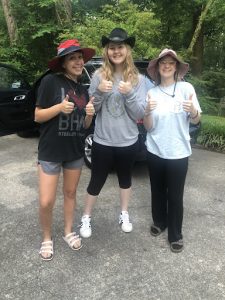 We hit the road at 6:00 am that morning with so much excitement and energy. It was as if we were in elementary school again, about to take our first-ever field trip to the local zoo. The first few hours of our drive to Dallas went by quickly; our only worry being the shortage of gas in the Southeast. After a few failed attempts at finding gas, we made our first stop in Louisiana. 
Our portable deli and backseat sandwich-maker (varied based on who was driving) made for a good afternoon pick-me-up to finish up the 10-hour drive. We ate lunch on the road most days from the cooler of cold cuts and sliced cheese that we brought with our canned goods for camping. 
Upon arrival in Dallas, our first priority was a nap in the hotel room. Then, we needed to find a local restaurant for dinner. 
When walking out of our hotel to go grab dinner, we dealt with a creepy man cat-calling us outside. One word of advice traveling as a woman with two other women: always carry pepper spray. The man ended up being harmless and we ignored anything he said to us, but it's always a good idea to stay aware, especially in a big city.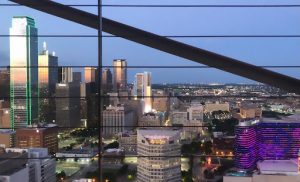 We ate dinner at a local barbecue restaurant in downtown Dallas and ultimately decided that no barbecue can match that of the deep South, but we decided to forgive them.
Walking along the shops downtown after dinner gave us a feel for the big city culture. We ended our first day with a trip to an observation tower that overlooked the city lights. 
Day 2 – Dune Sledding & Sand Storms (Dallas to Albuquerque)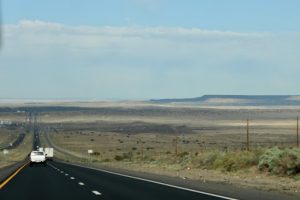 We got an early start to the day, once again, with 12 hours of driving ahead of us. Our killer playlist entitled "Wild Wild West" would get us through. Most of that time was spent in the deserts of West Texas, passing giant wind turbines on either side of us for at least 200 miles. 
We made a driver switch stop in Roswell, New Mexico. This town holds a conspiracy theory that a UFO landed there in the 1940s. The entire town is decorated with cartoon aliens on each establishment, along with extraterrestrial memorabilia and knick-knacks in every store. Thankfully, we did not see any UFOs this time around.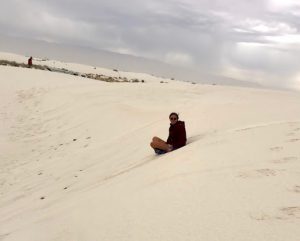 Our next tourist stop was to White Sands National Park. Our family and friends highly recommended this spot to us. It's basically a giant white desert with tall sand dunes that visitors can slide down. 
The weather, unfortunately, was not in our favor. It started raining pretty hard as soon as we got out to the dunes. The wind was so strong that sand pelted our skin and blew in our eyes. I ended up losing both contacts to the fight and had to wear my glasses for the remainder of the day. 
Nevertheless, getting to sled down the sand dunes was worth the stop, even amidst the crazy weather. We took a short three-hour drive back to our hotel in Albuquerque, and we called it a night.
Day 3 – Painted & Petrified (Albuquerque to Grand Canyon)
The next day of driving was the shortest and most scenic one yet. We'd heard the Spotify playlist created for the trip at least 3 times all the way through at this point, so we were ready to see more sights.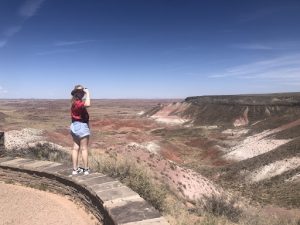 Making our way through the rest of New Mexico and into Arizona, we passed mountainous reservations and colorful deserts along the way. Another stop suggested by our families was the Painted Desert in Petrified Forest National Park. 
The park is about 5 hours from The Grand Canyon and allowed for a beautiful detour away from our GPS route. The views were so scenic and colorful. It seemed that Bob Ross himself couldn't have done it justice.
We arrived at DeMotte Campground that evening with plenty of time to reserve a spot for the next two nights. The campground was on a first-come-first-served basis, but all internet reviews suggested arriving before 4 pm in order to ensure a spot. 
We pitched the tent and threw chili mix, kidney beans and canned chicken together. This was the first attempt at "CANyon Chili," a name coined by Courtney due to the fact that all the ingredients were canned goods.
After dinner, we headed to the North Rim of the Grand Canyon, which was only a 30-minute drive from our campground. We finally got to take in the first view of the canyon as we each called our parents to let them know we made it safely. 
Day 4 – Mule Rides & Tour Guides (Grand Canyon)
We had a perfect start to the day by riding mules along a rim that overlooked the grand canyon. My mule's name was Boo, and she was very friendly, but being at the back of the line, she tended to go at a slower pace than the rest of her mule buddies.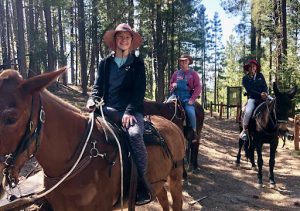 Adriana's mule, Bill, took well to commands and kept up with the group, but he took frequent bathroom breaks throughout the ride. Reba was Courtney's mule, and she had quite the attitude. Reba often tried to break away from the trail and take her own path, but she wasn't too hard to wrangle back in.
We spent the rest of the morning recovering from sore legs from our saddles. Lunchtime came around and we enjoyed sandwiches with a nice view of the canyon while having a lovely conversation with a park ranger, who so generously granted us "junior ranger" status after hearing about our road trip adventure. 
Later on in the afternoon, we attempted a five-mile hike during which we chickened out and came back before completing the trail. We almost lost our junior ranger status for this one, but I think we made up for it with our enthusiasm.
The rest of the evening was spent gazing at the highest viewpoints of the park. Now you're caught up with where I started, sitting on the edge of a rock as the sun set behind the Grand Canyon.  
We didn't know it yet, but that night camping would be the hardest one of the trip. Temperatures got down to the 20s and our below zero sleeping bags along with layers of clothing wouldn't be enough to keep us warm. A restless night would lead to a tiring day, to say the least, but it was all worth it. The memories that I had made along the way were definitely worth the exhaustion. Stay tuned for part two to see how we recovered from the night and where we headed the rest of the trip.