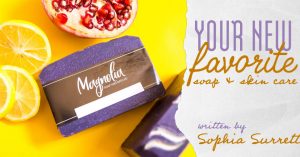 If you're like me with skin so sensitive that you can barely buy anything from the store without breaking out, then Magnolia Soap and Bath Co. is the place for you. This health and beauty store offers products ranging from laundry detergent to bath soap to shower steamers. These products are made with clean and plant-based ingredients that will leave your skin feeling soft and nourished. 
Magnolia Soap and Bath Co. was created by Magen Bynum originally to make organic products for her daughter who was super sensitive to every "clean and organic" baby product. After recognizing the difference between plant-based products compared to chemically infused products, Bynum wanted to share her discovery with other families and her community. 
"At Magnolia, we use no harsh chemicals or fragrances. We use fragrance oils, but these are not harmful to the skin," said Bynum. 
Magnolia Soap and Bath Co. reached out to us here at Alice Magazine to try some of these clean products and we are here to give you the inside scoop on what these products feel like. In the cutest cubed cardboard box, we received a bath bomb, a shower steamer, laundry detergent, and bath soap. Continue reading for our full review of these products and don't forget to watch the accompanying video here.
Shower Steamer: Morning Energy 
Now, if you were like me and had no idea what a shower steamer was. It operates just like it sounds: you put it anywhere in the shower you like (the floor out of direct water stream, a shelf, etc.) and let the steam release the essential oil scent. For this one, it was Morning Energy. This fresh lemon smell filled my shower immediately and kept having a fresh smell the whole shower. Plus, if you don't put it on the floor but on the shelf, it will last up to three-four showers. However, you will need to wet it a little first to get the scents flowing. 
Bath Bomb: Oatmeal, Milk & Honey 
This bath bomb smells exactly like Oatmeal, Milk & Honey, and let me tell you, that's a good thing. After you fill your tub up with water (I like mine warm-hot), drop the cream-colored, oat-sprinkled bath bomb into it. You will immediately see a fizzy stream of bubbles and the scent will release into the air. After the bubbles have settled, stir the water with your hand, then dip your body into the water. Stepping in, my skin already felt better as the oatmeal nourished my body, and the honey provided anti-oxidants for my skin. This bath bomb does not leave a residue around your tub and leaves your skin fresh, not feeling clogged. 
Laundry Detergent: Magnolia
This was my favorite product I tested out. The clean-smelling detergent powder just drops right in with your load, doesn't matter if it's delicates, colors, etc. Instantly, your laundry room will begin to smell like the clean linen mixed with a beautiful fragrance, at least mine did and I loved it. After it was washed, I transferred the clothes to the dryer, and the smell was still there and stronger than ever (in a good way, not a headache way). Let me just say, the scent stays with the clothes after the whole process. I will be going to get more as soon as I run out of the laundry detergent I have now. This product is one of Bynum's favorites as well. 
"There are so many different ways you can use it. From baby to great-grandmother, it is safe for the skin and makes your clothes smell amazing," Bynum said. "I use it to mop with as I have a 112-year-old home whose hardboards are sensitive; I use it in a squirt bottle for the kitchen and in the back of the toilet as a toilet refresher."
Bath Soap: Vanity 
This clay-textured, swirly-colored bar of soap is so soft on the skin and lathers magically. I recommend using a washcloth, exfoliating towel, or loofa to really get the benefit of the rich lather. The bar of soap is large and will last many washes. The "Vanity" smell is amazing, but not too strong to where it is radiating to everyone around you. I get excited to use this soap in the shower as I love the way my skin feels afterward. 
Magnolia Soap and Bath, Co. has changed my bathroom routine as I now grab for their products over ones I have used for years. They don't just have home and body products, but also pet and men's lines as well. Bynum plans to expand her company over the United States in the next few years as she offers franchises, an opportunity to own and operate one of her stores in your area, and is on a rapid growth plan. So, perhaps one of her stores will be near you! But, if you can't wait that long make sure to check out her website at https://magnoliasoapandbath.com/.