By Schuyler Rosson
I, like other college students, was looking forward to coming home for winter break and indulging in my favorite foods and restaurants with family and hometown friends. My Yelp page was filled with bookmarks, tagging new places to try with innovative outdoor dining experiences and Instagram-worthy food. However, reality quickly set in within days of being home, and I was forced to accept that dining looks different now than it did last winter break. In fact, it looks different than it did six months ago during summer, and it continues to look different as we attempt to manage the COVID-19 pandemic. Indoor and outdoor dining in the majority of California was forced to close, leaving many restaurants with the sole option of takeout. In an effort to not only enjoy my favorite spots but also show support to new places, I became dedicated to navigating takeout. In doing so, I compiled all of my favorite restaurants, old and new, into a complete culinary guide to eating out in San Francisco and Northern California. 
Coffee
The first stop of the day has to be coffee – always. San Francisco is home to some of the best coffee shops with well-known name brands headquartered in the heart of SF. It's a quality of coffee I crave when I'm away. With shelter-in-place laws looming, I began to use my daily coffee run as an excuse to get outside and enjoy some fresh air. Whether it be a drive or a walk, I love the routine of getting coffee and have made it a fundamental part of my morning ritual, an activity that can be completely contactless and safe if done correctly.
1.) Philz Coffee – San Francisco, CA 
Philz Coffee is a Bay Area staple. Founded in the Mission District of San Francisco, Philz creates blends that are completely unique and innovative. My "go-to" is an iced Philtered Soul with almond milk. It's a medium body blend with notes of chocolate and hazelnut that give subtle sweetness and freshness. For contactless pickup, I use the Philz app, which is easy to navigate and allows me to time my trip perfectly. The avocado toast is also a favorite and frequently accompanies my coffee.
*Multiple Bay Area locations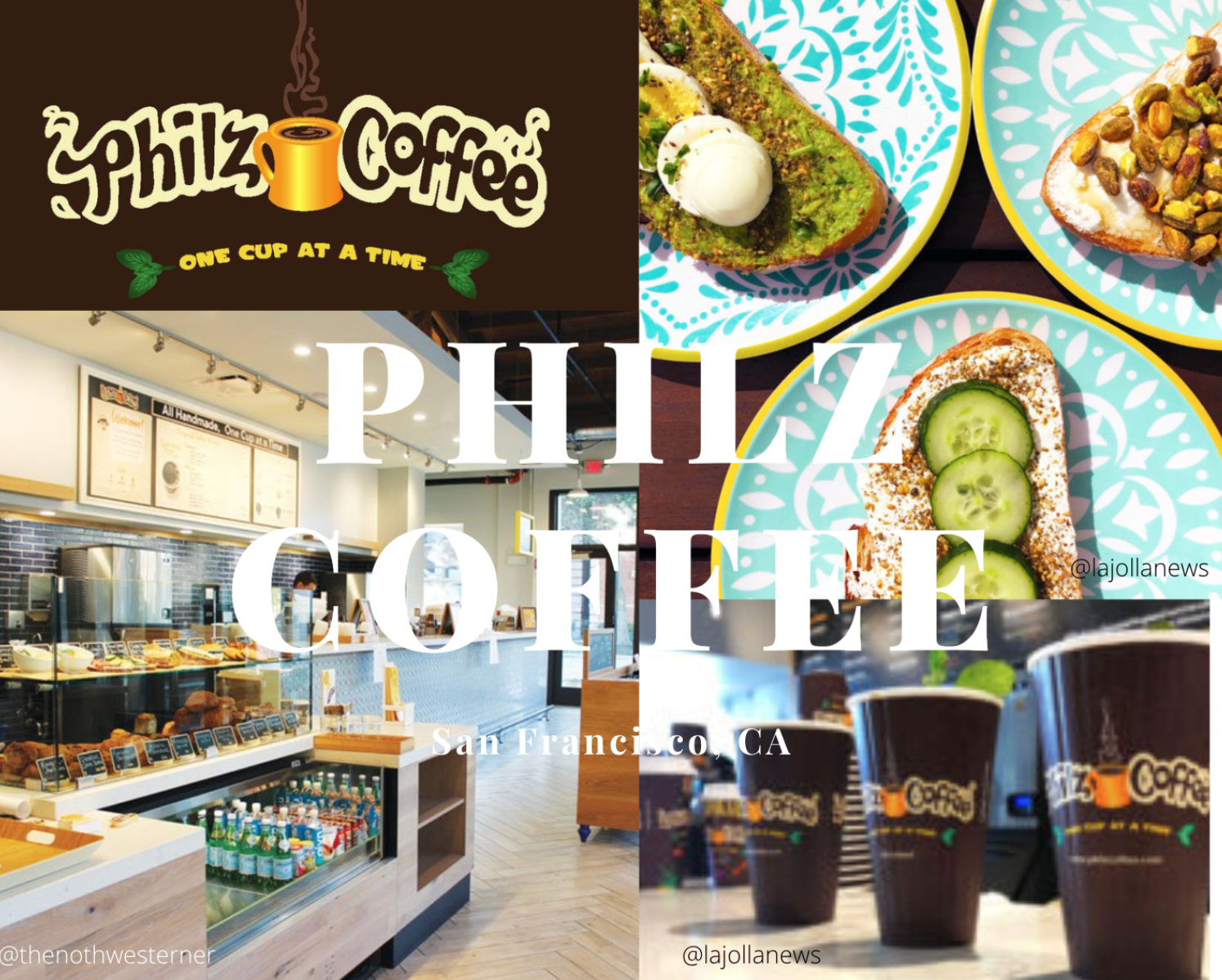 2.) Blue Bottle Coffee – San Francisco, CA
Blue Bottle is a coffee empire founded and headquartered in Oakland, California, that made waves in the coffee industry when they introduced their "single origin" mantra. A term used to describe the company's commitment to sustainability and freshness, the mantra promises every cup of coffee has one single source that can be traced back to harvest and region. The storefront is stylishly simplistic with sleek wide widows that showcase the distinctive blue logo. Blue Bottle offers easy ordering at the store window or via the Blue Bottle Coffee app. My regular order is a New Orleans iced coffee with almond milk or a Hayes Valley espresso with a fresh pastry to go. The coffee is robust and strong but still sweet and velvety. I ditch the sweetener to enjoy the bright flavor and natural silky sweetness.
*Multiple Bay Area locations
Lunch
 Lunch has been made easy with contactless pickup and to-go orders. Whether it's picking up lunch in between school and work or taking it to the park, grabbing a bite is a great way to unwind and recharge for the rest of the day. Here are some of my favorite lunch options in the Bay Area: 
1.) Gott's Roadside – San Francisco, CA $$
First opened in St. Helena, Gott's Roadside was founded in 1999 and serves childhood favorites with a California twist. The food is nostalgic without being too heavy or overly filling. When I was little I'd always order one of Gott's artisanal cheeseburgers with sweet potato fries and a festive seasonal milkshake. As I've gotten older, I've explored more of the menu and started to venture towards items like the Crispy Teriyaki Sandwich, Ahi Tuna Poke Tacos and Falafel Salad (my dad's favorite) with a lemonade. Whatever you're in the mood for, at Gott's you really cannot go wrong. Whether it's a burger, a salad or a soft-serve, the quality is always impeccable and the food is consistently delicious. The best way to take out Gott's is to order online via their website and opt-in for curbside pickup. 
*Multiple Bay Area locations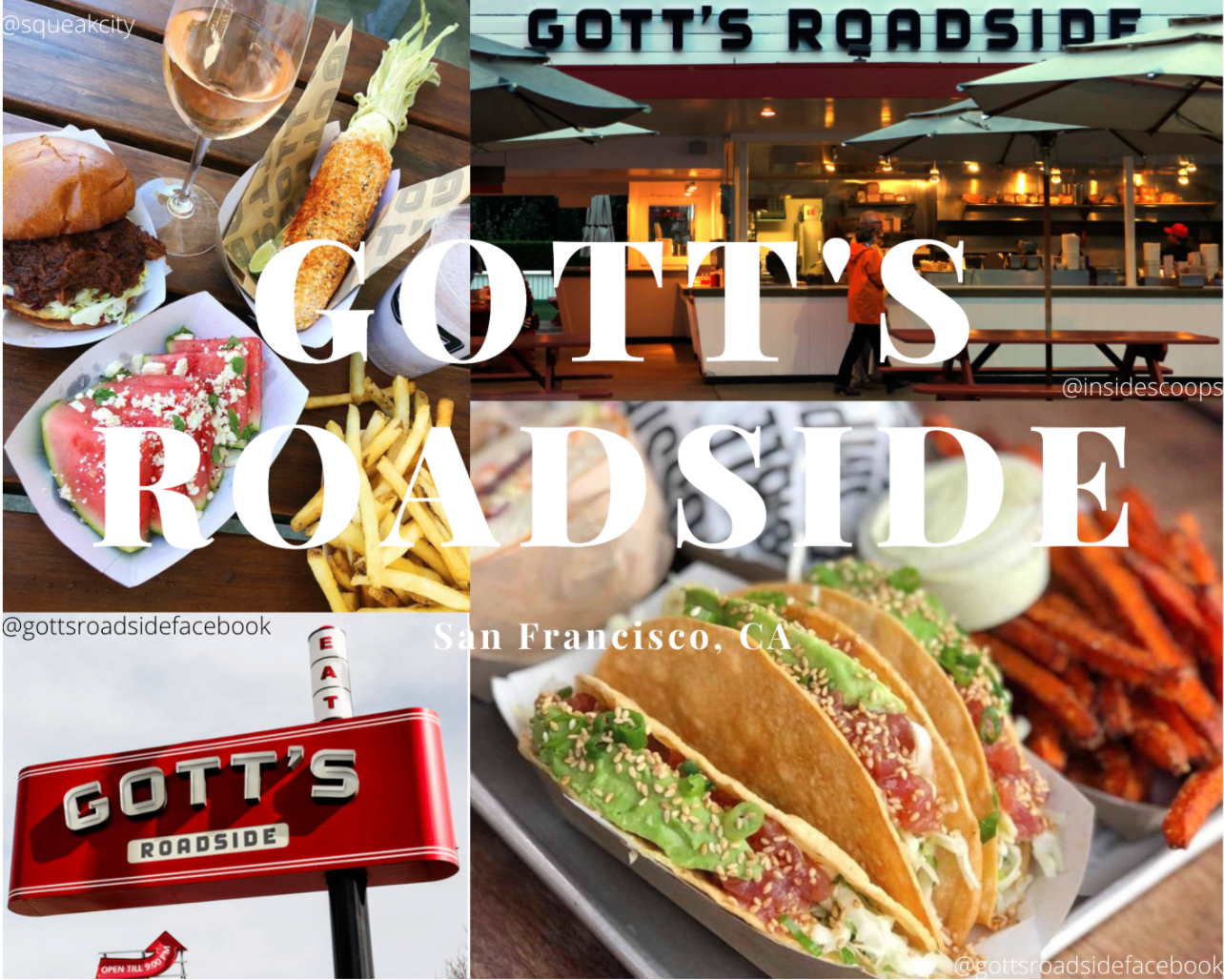 2.) Journeyman Meat Co– Healdsburg, CA $$
Journeyman Meat Co. is a high-end Italian butcher shop, salumeria and tasting bar beloved in Sonoma County. This spot was recommended by a family member and has quickly become a new favorite of mine. Journeyman has fresh authentic meats, sausage and salami that can all be packaged to go and enjoyed. The food menu is limited but delicious; pizzas and sandwiches are made to order with high-grade meat and garden-fresh produce. Food, meats, salamis and wine can be ordered online as well as in-store. I love the Verde woodfire pizza topped with house-made sopressata, smoked mozzarella and arugula. I ordered in-store and enjoyed it in the park with a charcuterie board and San Pellegrino soda. For those that prefer to order online, the website is accessible and easy to navigate.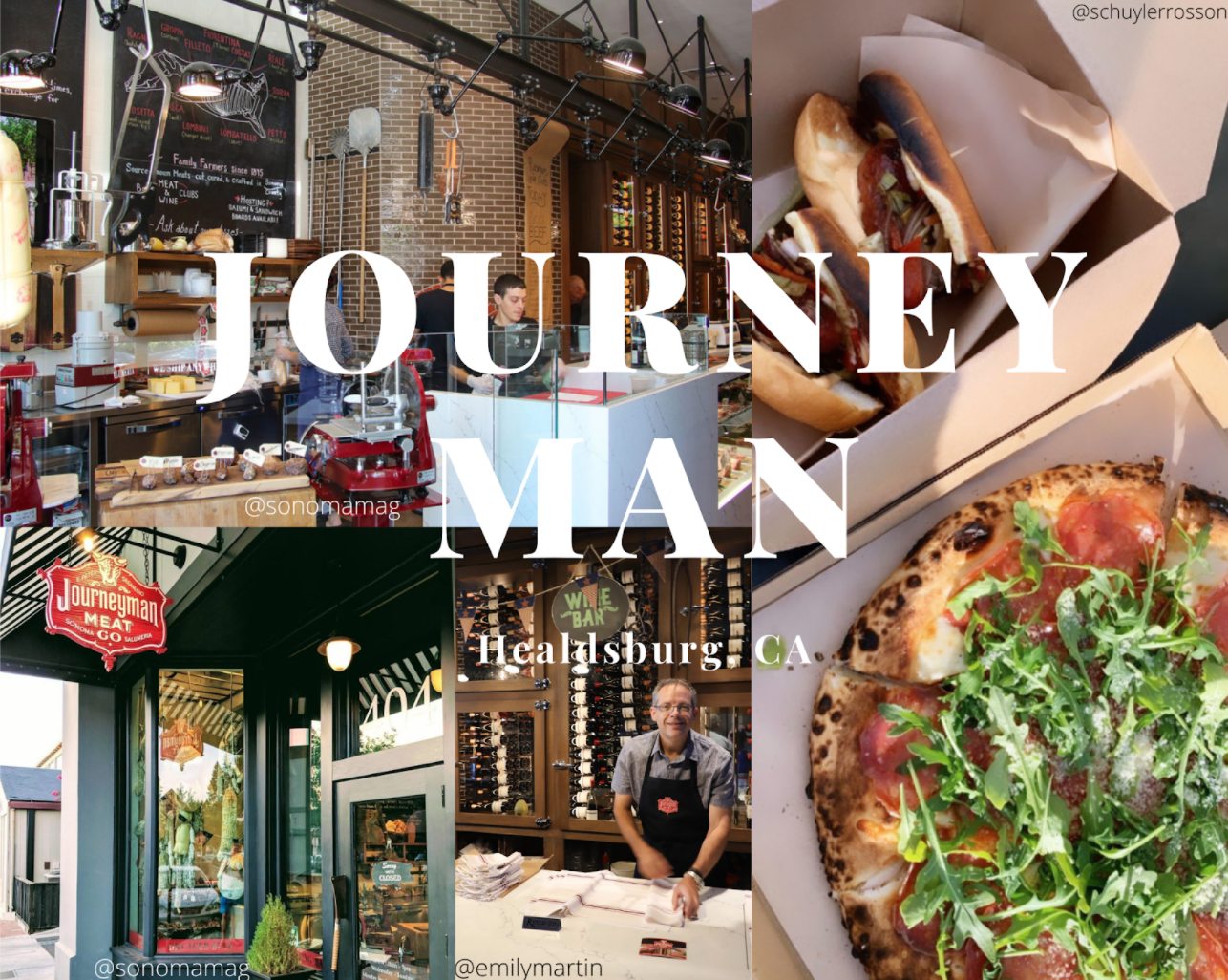 3.) Nick's Crispy Tacos – San Francisco, CA $
I debated whether this belongs in the lunch or dinner section because I truly do love this spot for both. A place I had enjoyed in high school and fell in love again with recently, Nick's Crispy Tacos is a Russian Hill neighborhood hotspot that was previously known for its lively bar scene and youthful atmosphere. The menu is traditionally Mexican with a California flare, offering street tacos, burritos, soft/crispy tacos and quesadillas. Nick's is stocked with a knowledgeable staff that keeps customers satisfied and loyal.  I love the Camarones tacos with a cabbage blend and guacamole served on a fried flour tortilla. The produce is vibrant with fresh flavors that pair perfectly with local meats and house-made salsa. The salsa is refreshingly acidic and balanced with a spicy kick, making a perfect side for crispy tortilla chips. It's bright, colorful and wonderfully delicious. The food travels well and can be delivered or ordered. For lunch I prefer to walk up to the store window and order while there; however, during busier dinner hours call ahead to ensure your order is taken care of.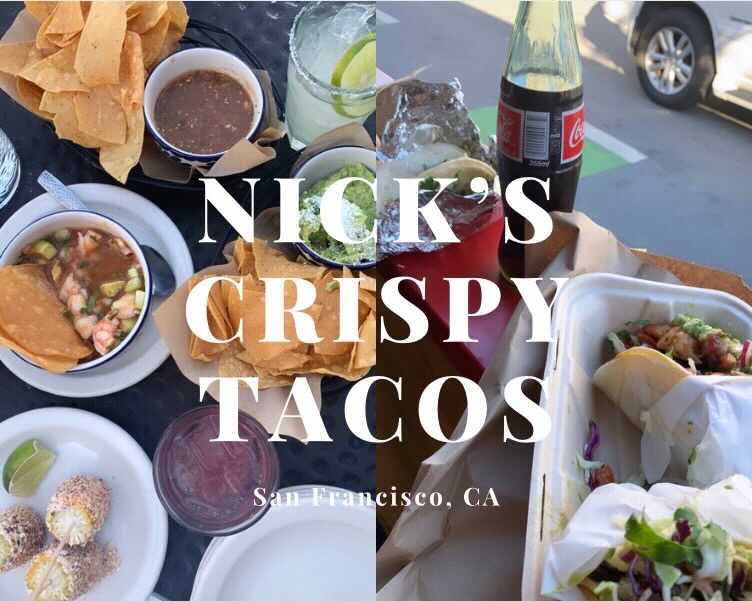 Photo by Schuyler Rosson
Dinner
 When getting take-out for dinner, my family tends to indulge in meals that are outside of our daily routine and cannot be recreated within our household. Since the Bay Area is home to a fusion of culture and cuisine, we take advantage of the influences that are special to San Francisco. This is a great way to support beloved community restaurants and create a dining experience that is meaningful and rare.
1.) Sasa – Walnut Creek, CA $$$
 This sushi spot is hands-down the restaurant that I look forward to the most when I come home. I discovered Sasa while in high school and have held birthday dinners and countless girls' night out happy hour dates here. I love the atmosphere and ambiance of Sasa, but even when indoor dining is closed the takeout does not disappoint. The staff is familiar and friendly and takes special time to guide newcomers through the menu, pointing out best-selling rolls and small plates. Sasa offers a full sushi bar with Japanese influenced cuisine focused around seasonal meats, produce and fish. The sushi is high-grade and fresh, consistently hitting the mark every visit.  I could write a whole post about Sasa, but instead I will name a few must-haves. For appetizers, the lettuce wraps with tempura shrimp are a fun take on traditional lettuce cups. They are presented beautifully but still travel well and maintain their crisp. As for sushi, the Sasa Roll is an absolute must; with spicy tuna and tempura shrimp, it's perfectly savory and sweet with a nice crunch from the tempura.  For those that are not huge sushi fans, there are delicious small plates to be enjoyed. All menu items pair well together and are encouraged to be shared. My sister's personal favorite is the popcorn chicken. The popcorn chicken is served warm with basil and lemon aioli. The outside is crunchy and warm while the inside is buttery. The aioli tops off the dish with a bright zesty kick. Sasa offers a variety of takeout and delivery options, but to maximize flavor and freshness I would definitely recommend picking up in-store via a phone order.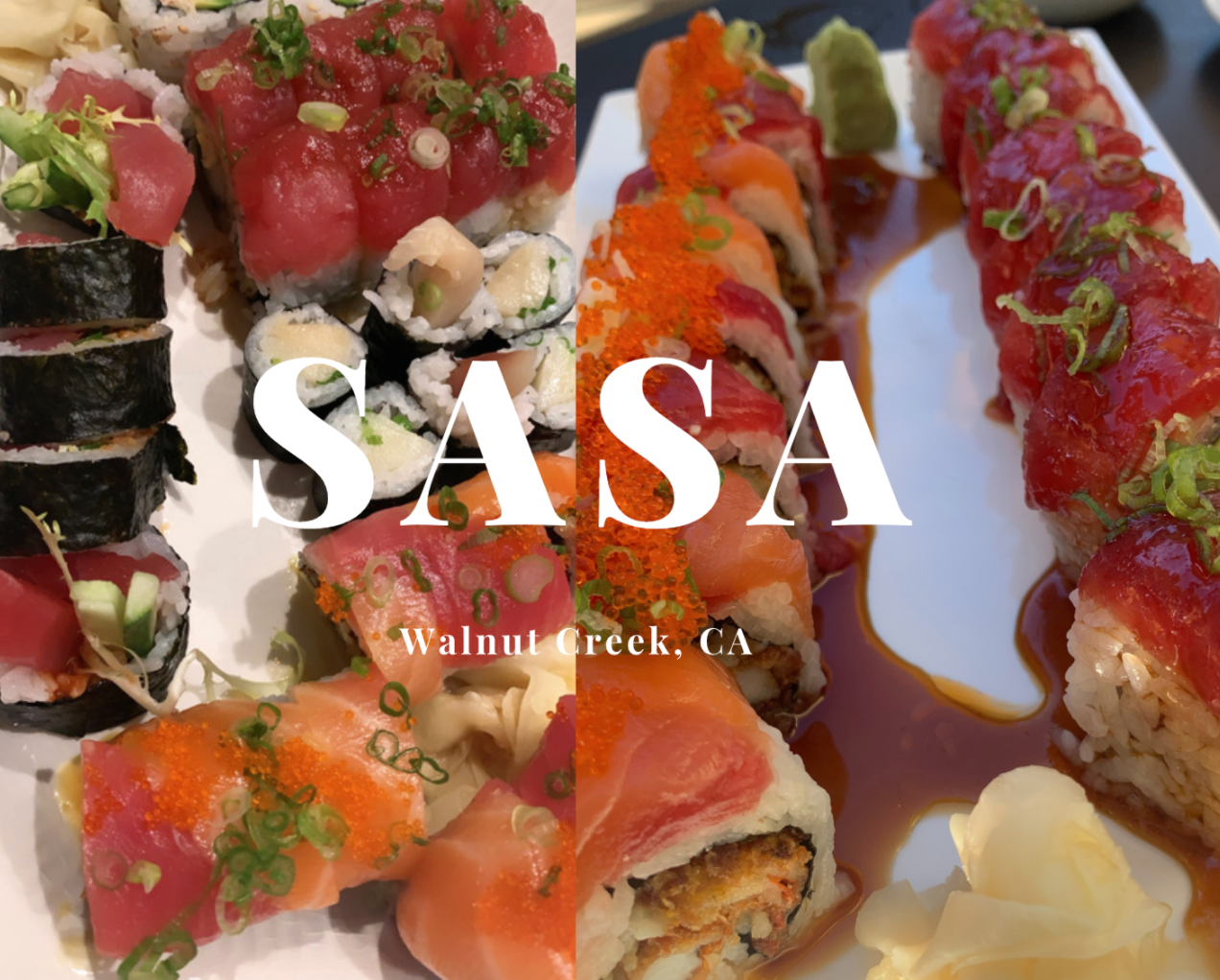 Photo by Schuyler Rosson
2.) Hog Island Oyster Bar – San Francisco, CA $$
 Along the coast of Northern California's Tomales Bay, according to the Ferry Building Marketplace website Hog Island Oyster Company sells over 5 million oysters and clams each year. With multiple locations and restaurants, Hog Island Oyster Company is an experience completely unique to Northern California and is enjoyed by locals and oyster enthusiasts. The oysters can be enjoyed via restaurant takeout or straight from the farm purchased whole. For those that don't feel like shucking their own oysters, ordering directly from the Hog Island Restaurant will do the trick. The original Hog Island Oyster Restaurant is located in the iconic Ferry Building, it is waterfront with a stunning view of the Bay Bridge. Oysters can be purchased with delicious seafood appetizers and entrees. Clam chowder, seafood linguine and fish tacos make for the perfect main course for your oysters to be enjoyed with. The oysters are sold and produced locally, making them known for farm-to-table freshness and bright flavor. 
*Multiple Bay Area locationss 
3.) Ramen Shop – Oakland, CA $$
Ramen Shop, a Rockridge neighborhood restaurant that specializes in artisan ramen paired with Japanese appetizers and small plates, is also a family favorite. This spot has a small menu that is crafted around seasonal flavors and vegetables and changes frequently to ensure freshness and flavor. Each dish is a culinary masterpiece that harmoniously blends together flavors that typically are unexpected. For takeout, the ramen is packed into takeout kits that separate the noodles from the broth. With the ramen kits, transportation is easy and the food travels well. For those that are of age, they offer signature cocktail kits with meals. Their cocktails are a fun take on the beloved classics with a modern, personalized twist. The Soft Limits Rum Margarita is my personal favorite. With fresh lime and grapefruit it is tangy and crip, but has a  sweet flare from brown sugar and Mexican vanilla. The kit comes with the option of one, three or six servings. The included ingredients are packaged individually which allows you partake in the experience of cocktail making whilst managing the potency. To maximize the ever changing menu I would highly suggest sharing family style, the ramen portions are quite large and can be enjoyed by two. Take-out is available solely online via the Ramen Shop website.