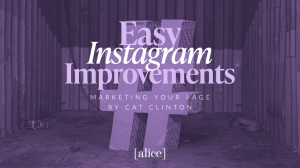 By: Cat Clinton
Social media is not real, and thanks to untouched leaks and captured candids,  most people know this. Social media posts often reflect the best parts of life, also known as a highlight reel. Some people use that information to support the idea that social media is not important, and your page shouldn't be either. If you're like me, however, this awareness reinforces the idea that if people are going to assume you're trying, you might as well try hard and be the best. Think of your page as a business. Most people believe individuals who work hard and have high standards will be more successful. What you place on your public Instagram page determines your brand. 
Start by downloading the app and assigning your background information to the page. This information includes a name or nickname for privacy purposes, age, birthday and form of contact. Make sure to link an email or phone number to the account in case you are ever hacked or forget to write down the password. Then choose a username, password and profile picture. 
Now that the profile is customized, begin adding your friends. Find friends from your phone contacts, Facebook page or from searching usernames, though the last is slightly inefficient. This is where most people stop their social media identity, however, if you want every ex-partner to miss you, every girl wanting to befriend you, and every online boutique asking  "want to collaborate?" There are a few more steps.
Decide on a personal or business account. Personal accounts don't have a category box in their bio but are not restricted to the music in their stories. Business accounts don't allow most songs to be played on stories due to copyright restrictions but provide insights on followers gained or lost, number of page visits, percentage of age demographics making up your visitors and number of visitors following you. These insights can tell you how to target your profile toward the audience you have. Increasing page traffic can be a lot easier when followers tell you what they want to see. Since most of my page visitors are females in my age group, my feed focuses on pop culture and current events that spark conversation amongst my age range.
Next is your bio, often the second focal point of any page, behind the profile picture. Your category will be inside your business account bio. Since my page has a lot of beach photos and blue filters, my category is "Surf Shop". I keep this theme up with a lot of bathing suits and ocean pictures. Underneath this is where you can place a website or link other social media platforms. This is a fun step if you want your account to appear more professional.
The last step to an appealing Instagram is coordinating posts. Images should be in one filter or limited to two or three similar ones, this will create a deliberate color theme. Personally, I use VSCO C8-C10 for all of my photos, varying depending on the tones already depicted in the image. These filters keep my page light blue in theme, and I am motivated to post more beach-oriented shots so my theme is never lost.
Think of an Instagram page in terms of a grid, with three posts in a row. When you first open a page, you often only see the first three rows, so a 3-by-3 grid should be how you imagine an Instagram page. Photos should be released in groups of three to keep a page synchronized. You can make a post an "album", meaning multiple photos can be scrolled through for a single post, but try to keep the dimensions of all the photos in one album the same. White space or cut-off images can make feed look sloppy. The more intentional the photos look on a page, the more aesthetically pleasing the effect will be.
Taking the time to format your Instagram can help others understand who you are and what you want to say. What your message is and how you deliver it is completely up to you, but these tips can help you make sure the message is clear and effective. You don't need to be a business or an influencer to simply want something beautiful to show up when people search your name.