by Kerry Marques
There's no worse feeling than feeling unprepared, especially for the next chapter in your life. Dressing for the workplace can be tricky, but it does not have to be boring. Starting a job immediately after graduating college can be intimidating, too, when your tank top and shorts collection doesn't quite make the business casual cut. However, there is no need to break the bank when taking your wardrobe from college to career. There are plenty of ways to revamp your closet. Start by investing in a few timeless pieces that can be worn for a variety of occasions during your career.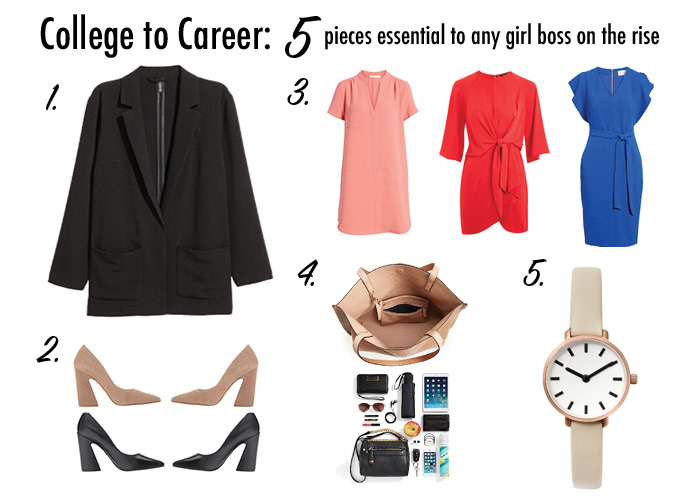 1. Black Blazer
A blazer can completely transform any outfit from office-appropriate to a night on the town. Wear a simple black blazer over a simple dress for a conservative feel, or pair it with nice jeans and a plain white tee for a casual look. This blazer by H&M is the perfect price for a universal piece that is sure to be a key player in your first professional wardrobe.
2. Shoes that were made for walking

The perfect shoe is one that completes any outfit while remaining comfortable to walk in. Ditch the stilettos and go for a more reliable style. A chunky heel gives a modern feel with additional support for those long days. Produced in an array of color choices for under $100, try this heel by Nine West, which mixes timeless style with a modern design and is built for today's working girl on the move.
You're probably familiar with the term little black dress. But only neutral tones in the workplace? Those days are over. Incorporating color into your wardrobe will help your personality shine through. Granted, not everyone will to feel comfortable in a hot pink dress. However, everyone has her own power color that makes her feel her most confident. Stand out in any of these three dresses that can be worn for any office occasion, from interviews to board meetings. They are not only appropriate and trendy, but they are affordable as well, which is important for any newly working girl.
Especially if you are commuting, it is important to have a timeless and reliable bag. Save the cheap, trendy purse for a night out with friends and invest in a bag that is not only big enough to fill with your necessities but professional looking as well. The key when buying this bag is making sure it will last, since the last thing you need is a strap breaking or seam ripping as you are running from meeting to meeting. This bag from Nordstrom is not only an amazing price but is made of reversible leather as well, making it essentially two amazing bags in one!
5. Wonder Watch
Arriving on time is key, especially at a new job, but that doesn't mean you have to wear a dated watch as an accessory. Stay on time and trend with this watch by Breda, available at Nordstrom. Rose gold metal updates the classic modeling while black detailing offers an edgier feel that is balanced by the beige strap. All in all, this contemporary watch will compliment any outfit and keep you from missing that first conference call of the day.
Cover photo by Melinda Pack on Unsplash