Trip timeline day 5-10 
By: Laura Fecanin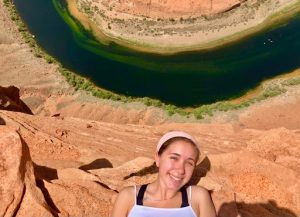 Day 5 – Pete the Prairie Dog & Perfect Canyon Chili (Arizona to Utah)
We had a slow start to the morning as we recovered from a chilly night filled with tossing and turning. We stopped for coffee at the camp supply store and reluctantly headed to Utah to begin our next adventure at Bryce Canyon National Park. 
Caffeine was a big help through most of the trip's driving; bringing some Starbucks double shots in a cooler is handy when you can't stop somewhere for coffee.
Along the way, the weather changed from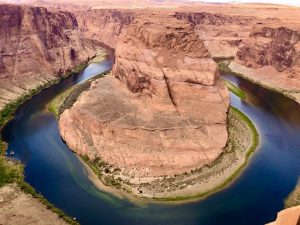 cold and windy to a hot, muggy desert in just a couple of hours. Since we came from the Grand Canyon in hats and long pants, we changed into shorts at our next stop. A trip like this definitely requires a variety of clothes for all weather types. 
Our stop was at Horseshoe Bend which, according to the park map, is a horseshoe-shaped cut-out formed by the Colorado River. 
Upon arrival at Bryce Canyon, we claimed a campsite for the following two nights and sought out the showers we saw on the campground website. Bryce was much smaller than any of the parks we visited which was nice because it felt like we would actually be able to enjoy everything it had to offer during our visit.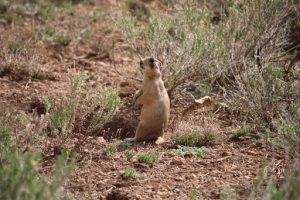 We drove around exploring the park at sunset that evening. Adriana spotted the cutest little prairie dog sitting in a grassy area near the road. We stopped the car for a bit to watch him scurry around and decided to name him Pete the prairie dog.
A second attempt at canyon chili that night proved successful by heating it up over the fire and adding nacho cheese. A hot meal really hit the spot after only eating cold canned food and sandwiches for the two days prior. We warmed up by the fire with s'mores as the cool mountain air rolled in. 
Day 6 – Navajo loop & Campfire Chicken Soup (Utah)
The morning began with a four-mile hike that none of us were ready for. I thought we had worked up enough strength to complete it easily, but boy was I wrong. What was thought to be a quick hike, ended up taking the whole morning and cut into the afternoon.
The trail was pretty treacherous. Not only was it long but it was mostly uphill. We were also on edge the whole time due to the frequent bear sightings in that area. I suggest always knowing your abilities when it comes to hiking in national parks. 
We needed to eat some lunch to refuel our energy lost from the morning. The park had picnic tables all over that were a perfect place to r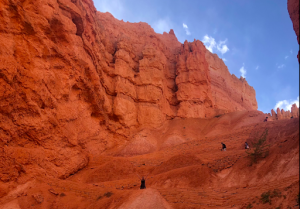 elax before the next hike, yes I said the next hike. 
Determined to stick to our plan for the day, we managed to muster up enough energy to keep exploring the canyon. Research prior to the trip made for easy planning once we were there. Navajo Loop and Queen's Garden were next on the agenda. These were both short but beautiful trails that went down into the canyon.  
That evening, Courtney made a fire again and we enjoyed canned chicken soup that was heated over it. Once the sun went down, we went back to the Navajo Loop lookout point and stargazed. I had never seen so many vivid stars like that in my life. 
We went back to the campsite and slept in the comfort of our warm SUV. At this point, we had given up on sleeping in the tent because of the below-freezing temperatures at night.  
Day 7 – Traffic Jams & Tough Driving (Utah to Colorado)
What started out as an easy day on the road quickly turned into a giant traffic jam. As three girls from Alabama, we had no idea there was only one major interstate connecting Utah and northern Colorado. It just so happens that the one interstate was under construction and only had one lane open. It was an exhausting day to say the least, but it was nice to get to sleep in a bed for the first time in four days. 
Day 8 – Hyenas & Hot Springs (Colorado)
The original plan to drive up to Rocky Mountain national park was foiled as we soon found out the park was closed due to wildfire damage. Adriana quickly did research and devised an alternate plan. The Village Inn was only a 5-minute drive from the hotel and allowed us to sit back and enjoy a nice breakfast. 
The rest of the day was certainly a change of pace. We headed to downtown Denver where we walked around, watched street performers and took pictures at Union Station. My favorite part about Denver was the fact that you could see the snow-capped Rockies from almost any point.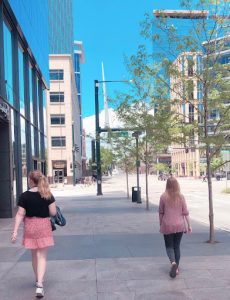 The afternoon was spent at the Denver Zoo where we got to see elephants, rhinos and orangutans. Oh, we saw lions, tigers and bears too, but you probably expected me to say that. 
We thought Denver would have been cold, but it was just as hot as Alabama. The more I walked around the zoo looking at animals, the more I regretted wearing jeans.  
Of course, we couldn't go to the mountains without going to a natural hot spring. The next stop of the day was a relaxing visit to Indian Hot Springs. We spent a few hours in the hot springs pool, enjoying the pure mineral water that flowed at 125 degrees.
Before heading back to the hotel for the night, I insisted we take a short detour through downtown to stop at In-N-Out burger for a late-night snack. I had never tried it before, being from Alabama, and had heard raving reviews about it from my friends. It was certainly tasty, but it wasn't the most amazing fast food ever. Even still, the detour was worth it. 
Day 9 & 10 – (Colorado, Missouri, & Alabama)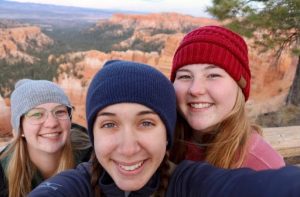 These two days thankfully went by fairly quickly. We left from Denver the morning of day nine and headed back down south towards Missouri, which was another ten hours. We stayed in a Super 8 motel that night, which was not the best decision. Luckily, we didn't face any major problems but the overall experience left us feeling uneasy. The halls smelt of cigarette smoke and the rooms gave off creepy motel vibes. We were sure to leave as soon as we could the next morning.
On day 10, we faced our final drive home to Birmingham, AL. The last day of driving was the shortest yet, it only took us eight hours. We reminisced a good bit on the way back about what an amazing time we had. Even at this point, the journey did not feel real.
Our first order of business once we arrived back home was unpacking the car and taking it to the car wash. We unintentionally collected souvenirs from each destination: white sand on the dashboard and dirt from just about every hike piled up along the floorboard. It was almost sad to clean up.
Nevertheless, it felt nice to go back home and share all of the fun stories with our families. Take this as a guide when you look into exploring the West, you won't regret it.